Open Call for North West Playwrights
"Every story told. Every voice heard."
Box of Tricks is looking to find three early-career North West playwrights for the next cycle of our flagship talent development programme PlayBox in 2021.
Selected playwrights will be paid £1000 each to take part in a year-long talent development attachment during which time they will write a brand new play with dramaturgical support from Box of Tricks, develop their piece during a workshop day with actors and receive a public rehearsed reading of their play.
Committed to championing unheard voices and amplifying untold stories, Box of Tricks especially welcomes submissions from playwrights from under-represented groups. If an aspect of your identity - disability, gender identity, ethnicity, religion, sexual orientation and/or lower socio-economic background -  means your voice isn't being heard and your story isn't being told on contemporary stages, we want to hear from you.
"PlayBox helped me find my voice as a playwright"

~
David Judge, PlayBox 2014-15
Send us your play
Our PlayBox Submission Window will be open from Monday 6 July – Monday 31 August 2020.
Send us an example of your writing – a full-length or short play – together with a simple CV outlining your writing experience to playmakers@boxoftrickstheatre.co.uk (with 'PlayBox' in the subject line) by 5pm on Monday 31 August 2020. Please read Submission Criteria before applying.
Positive Action Policy
Box of Tricks operates a Positive Action policy to support our commitment to champion unheard voices and amplify untold stories. Any playwright whose identity is currently under-represented on contemporary stages and who meets the Submission Criteria will be automatically longlisted for PlayBox 2021-22.
If this applies to you, please state in your application: "I would like to be considered under Box of Tricks' Positive Action policy".

Submission Criteria
1. Writers must be aged 18 or over. There is no upper age limit.
2. Writers must be resident in the North West of England.
3. Writers must be at the early stages of their playwriting career. In order to be eligible, you must not have had any professional full-length productions of your work (over 60 minutes) performed for more than four weeks by a professional cast.
Key Dates
Autumn 2020 Interviews with shortlisted playwrights
November 2020 PlayBox Playwrights selected and announced 
January 2021 Year-long PlayBox cycle begins
Autumn 2021 PlayBox Workshop Day with actors
January 2022 Public rehearsed reading of PlayBox plays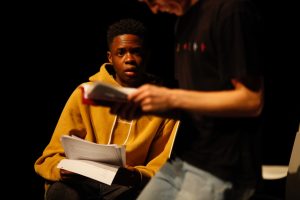 Supporting local playwrights
PlayBox is a year-long writer-on-attachment programme offering bespoke residencies to three early-career North West playwrights to write a new play with support from Box of Tricks.
Over the course of a year-long attachment, each playwright receives a seed commission to write a new play with dramaturgical support from the Box of Tricks team and workshop development with actors. Each attachment culminates in a public rehearsed reading.