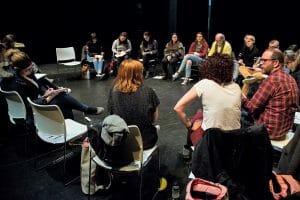 PlayMakers: Masterclasses
July – October 2020 | Free
Over the next three months, we're launching the first of our online workshops for Northern playwrights through our PlayMakers: Masterclasses series. Delivered by leading playwrights, join us as we explore a wide range of writing skills including redrafting, flexing creative muscles, employing storytelling devices, theatricality, group dynamics and dialogue.
All events are free but must be booked in advance.

Upcoming Masterclasses
Storytelling Devices with Keisha Thompson
Wednesday 12 August, 2:30pm


Q&A with playwright Alison Carr and director Hannah Tyrrell-Pinder
Wednesday 26 August

Writing Theatrically with Lizzie Nunnery
Wednesday 9 September

Group dynamics – moving beyond duologues with Tom Morton-Smith
Wednesday 23 September

Character and Dialogue with Chris Hoyle
Wednesday 7 October
Writing Pantomime with Al Lockhart-Morley
Wednesday 21 October
Schedule subject to change
Exercise for Creative Muscles with David Judge
Redrafting: Preliminary Exercise
Redrafting with Becky Prestwich
PlayMakers: Creative Surgeries
July – September 2020 | Every other Thursday | Free
Join Box of Tricks for a series of one-on-one Creative Surgeries for Northern theatre practitioners. Over the coming months, we're running fortnightly online conversations on Thursday afternoons.
Book your free place for a bring-your-own brew and a half-hour creative chat via Zoom. Let us know what you want to discuss – creative, producing, touring, casting, marketing and more – and we'll match you with a member of the Box of Tricks team.