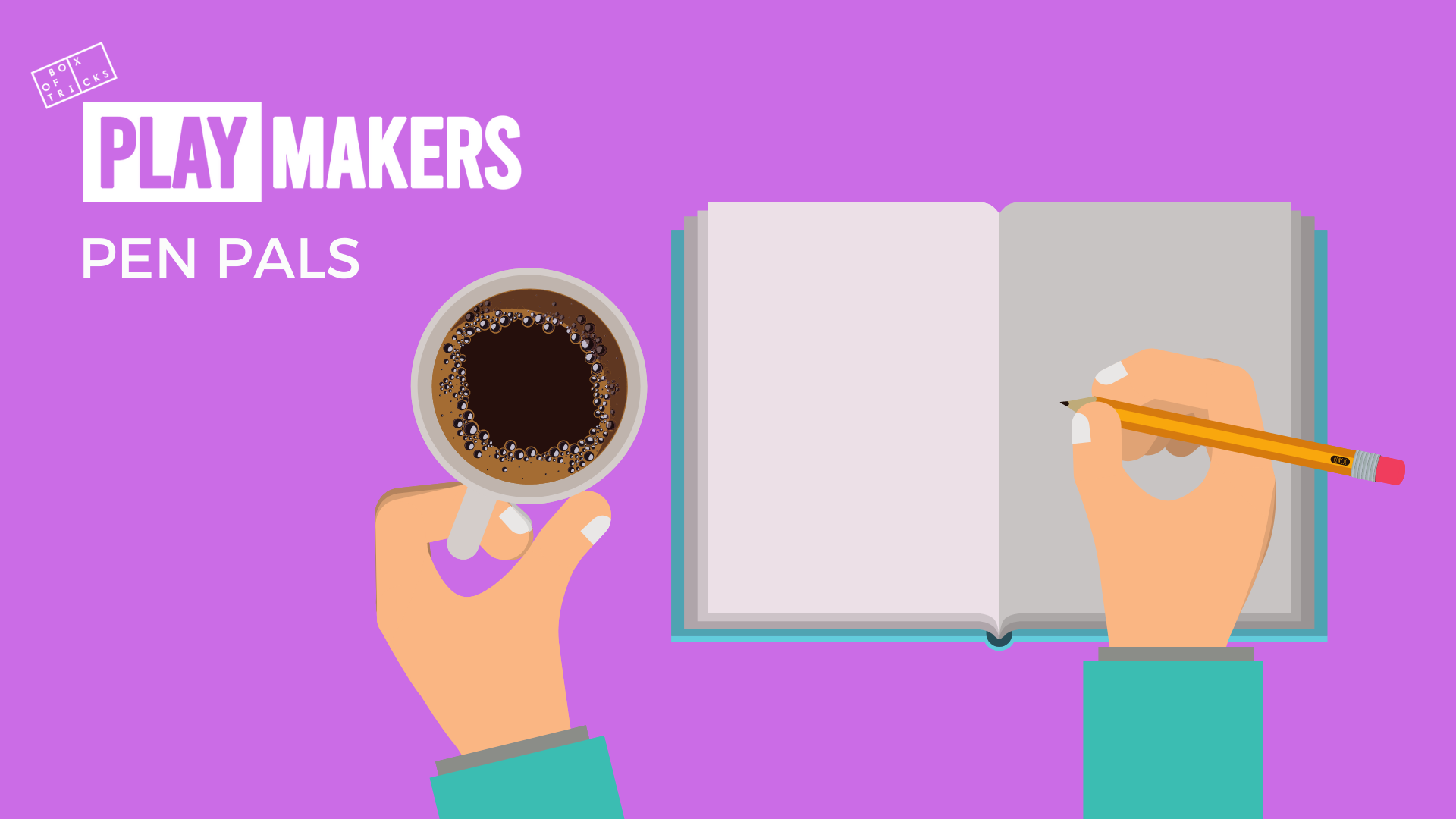 Pen Pals
Box of Tricks champions playwrights and empowers them to tell the stories they want to tell. We recognise that sometimes, these stories need to be told free from the pressures of a commission or competition deadline and that writers need a safe space for creativity and risk taking.
Launched in 2020, our Pen Pals exchange programme matches six pairs of Northern playwrights in each cohort to connect, share ideas and develop their craft. During the exchange, each Pen Pal will develop a full-length play – sharing thoughts and ideas along the way – and receive feedback from the Box of Tricks team. We've already matched 36 writers across 3 cohorts!
Call out for Cohort 4
Box of Tricks will match 6 pairs of Pen Pals for a six month period from February until August 2022. Each pair will send each other work-in-progress and maintain regular contact through online meetings.
Box of Tricks will introduce Pen Pals online, discuss their ideas at the start of the process, and meet again for a midway catch-up. Prior to the end of programme, there will be an opportunity to share extracts at an online Scratch Night. At the end of the exchange, all 12 Pen Pals will send their drafts to Box of Tricks to be read ahead of a final debrief and feedback session.
Eligibility Criteria
Our Pen Pals programme is open to writers at all stages of experience and we will aim to match you with a writer at a similar level. Writers must be members of Box of Tricks' PlayMakers Network and must be either resident in, or originally from, the North of England.
Apply to be a Pen Pal
If you'd like to be involved, send us an expression of interest to playmakers@boxoftrickstheatre.co.uk (with 'Pen Pals' in the subject line) between Monday 22 November and Monday 20 December 2021 (midday) and include the following:
1. A short example of your playwriting (up to 30 pages). This can be a short play or an extract from a longer piece.
2. An indication of your level of writing experience. Please don't worry if you don't have a traditional CV - just let us know what you have done to date. 
3. A short statement expressing what inspires you to write for theatre, why you'd like to be a Pen Pal and what you'd hope to gain from the experience. Please also tell us your connection to the North of England.
4. A brief pitch/treatment/outline of the piece you'd like to develop with your Pen Pal. If you've already started writing the script, feel free to include a short extract.












Pen Pals: Cohort 3
September 2021 - March 2022
Our third Cohort, writing from September until March, are:
Mhairi Ledgerwood & Mohammed Barber
Dan Millar & Will Charlton
Katherine McDermott & Sorcha McCaffrey
Laurie Ogden & Lauren-Nicole Mayes
Tiegan Byrne & Tiffany Bowman
Natasha Cottriall & Aisling Lally

As pictured (l-r): Mhairi Ledgerwood, Mohammed Barber, Dan Millar, Will Charlton, Katherine McDermott, Sorcha McCaffrey, Laurie Ogden, Lauren-Nicole Mayes, Tiegan Byrne, Tiffany Bowman, Natasha Cottriall and Aisling Lally.












Pen Pals: Cohort 2
November 2020 - May 2021
Our second Cohort, writing from November until May, are:
Alison Carr & Anna Spearpoint
Nana-Kofi Kufuor & Hannah Roze-Lewis
Becci Sharrock & Chris Salt
Kirsten Holly & Bronte Appleby
Barbara Williams & Kerry Wright
Nicole Joseph & Sass Holmes

As pictured (l-r): Alison Carr, Anna Spearpoint, Nana-Kofi Kufuor, Hannah Roze-Lewis, Becci Sharrock, Chris Salt, Kirsten Holly, Bronte Appleby, Barbara Williams, Kerry Wright, Nicole Joseph and Sass Holmes












Pen Pals: Cohort 1
September 2020 - March 2021
Our first Cohort, writing from September until March, are:
Molly Sweeney & Laura Homer
Karla Marie Sweet & Stefanie Reynolds
Francesca Waite & Josie Cerise
Nick Kirby & Steve Timms
Clare McNulty & James Harker
Kat Boon & Rachel Price

As pictured (l-r): Molly Sweeney, Laura Homer, Karla Marie Sweet, Stefanie Reynolds, Francesca Waite, Josie Cerise, Nick Kirby, Steve Timms, Clare McNulty, James Harker, Kat Boon and Rachel Price.