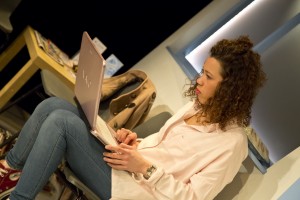 Playwright exchange programme
Box of Tricks champions playwrights and empowers them to tell the stories they want to tell. We recognise that sometimes, these stories need to be told free from the pressures of a commission or competition deadline and that writers need a safe space for creativity and risk taking.
Our Pen Pals exchange programme will match pairs of playwrights to connect, share ideas and develop their craft. During the exchange, each Pen Pal will develop a full-length play – sharing thoughts and ideas along the way – and receive feedback from the Box of Tricks team.

How does it work?
We will match 6 pairs of Pen Pals for a six month period from September 2020 until February 2021.
Each pair will send each other work-in-progress and maintain regular contact through online meetings.
Box of Tricks will introduce Pen Pals online, discussing their ideas at the start of the process, and meet again for a midway catch-up.
At the end of the exchange, all 12 Pen Pals will send their drafts to Box of Tricks to be read ahead of a final debrief and feedback session.
Get in touch
If you'd like to be involved, send us an expression of interest to playmakers@boxoftrickstheatre.co.uk (with 'Pen Pals' in the subject line) between Monday 1 June – Monday 15 June 2020 and include the following:
1. A short example of your playwriting (up to 30 pages). This can be a short play or an extract from a longer piece.
2. An indication of your level of writing experience. Please don't worry if you don't have a traditional CV – just let us know what you have done to date.
3. A short statement expressing what inspires you to write for theatre, why you'd like to be a Pen Pal and what you'd hope to gain from the experience.
4. A brief pitch/treatment/outline of the piece you'd like to develop with your Pen Pal. If you've already started writing the script, feel free to include a short extract.