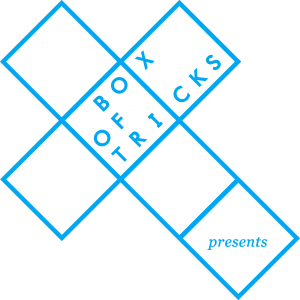 Accessibility Policy
Our Commitment
Box of Tricks Theatre Company want everyone to be able to access and enjoy our productions, workshops and development programmes.
When someone books onto a workshop or is accepted to a development programme, they will be given the opportunity to identify any specific access needs and can elect to complete a disability access & wellness rider to assist us to better support their individual needs to facilitate their enjoyment of our programmes.
For our live performances, we endeavour to offer a range of accessible performances across our tours where possible. For accessible performances, the Theatre's trained ushers & box office staff will be available to assist disabled patrons in accessing our performances.
Accessible Performances
In recent years, we've offered a range of accessible performances such as: Relaxed, Dementia Friendly, Captioned and Parent & Baby. We are committed to increasing our access offer to include British Sign Language and Audio Described performances in our future work.
Types of Accessible Performances
Relaxed: These performances have a more relaxed performance environment, allowing for noise and movement in the auditorium, a chill-out space for patrons who may need time away from the performance, and re-entry when needed.
Dementia Friendly: These performances are carefully tailored for people with dementia and their families or carers so that everyone can enjoy the performance in an environment that is comfortable and supportive. Box of Tricks underwent Dementia friendly training and all members of the core team are now Dementia Friends (an Alzheimer's Society initiative). 
Captioned: These performances are Captioned and gives audience members access to the actors dialogue via text displayed on screens, which are situated either on stage, or next to the performance area (depending on the venue). Captioned performances may be suitable for D/deaf audiences and those who are hard of hearing.
BSL: These are performances that are signed by a British Sign Language (BSL) interpreter who interprets the shows for D/deaf audiences.
Audio Described: These performances are designed to improve the experience of visually impaired and blind audiences. As well as listening to the dialogue on stage, the audience member wears a headset and listens to a live description of the action on stage, provided by a fully-trained audio-describer. Touch Tours may also be requested alongside Audio Described performances in order to give audiences the opportunity to familiarize themselves with elements of the set and costume before the performance begins. Audio Described performances are traditionally suitable for audiences who are B/blind or visually impaired.