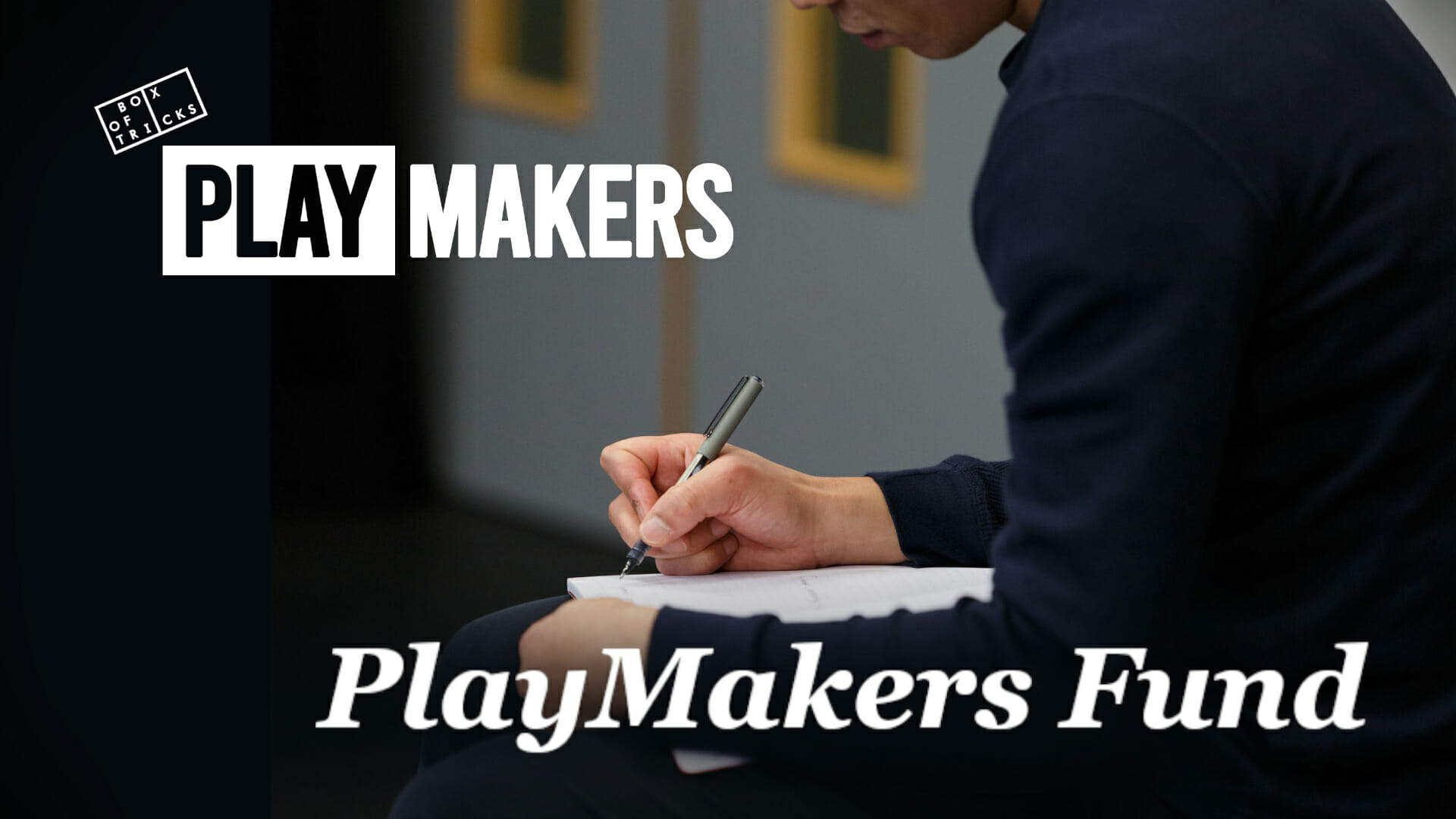 Support Box of Tricks as we embark on the next chapter of our journey. Celebrating 15 years of making new plays, we've launched ambitious plans to nurture and champion Northern talent, revitalising our mission to offer a wide-ranging, responsive programme that empowers and centres playwrights at the heart of everything we do.
Launched at the height of the pandemic, our PlayMakers Network is a creative refuge and a cultural community for Northern playwrights at all levels of experience; an accessible, open-to-all resource offering an ambitious programme that includes free online Masterclasses (+ video archive), Creative Surgeries, scratch events, open submissions, Culture Café conversations and our popular Pen Pals exchange programme matching pairs of playwrights to develop scripts through mutual support.
PlayMakers Fund
Our 2021-22 PlayMakers programme is a blueprint for a brighter creative future that radically reimagines our professional development offer for Northern playwrights, building on the success of the last fifteen years and ensuring that we'll be championing new writers long into the future.
As part of our 2021-22 programme, we will:
- Develop 5 new plays for future production through New Tricks and Screen/Play;
- Offer a creative hub for 3 Associate Playwrights;
- Champion 4 early-career North West playwrights through PlayBox;
- Support 24 Northern playwrights through our innovative Pen Pals exchange;
- Offer free Masterclasses and Creative Surgeries to 380+ participants;
- Pilot scratch events and road-test new approaches to writer development.
And that's just the beginning of our drive to forge a brighter creative future. But we can't do it alone. All activities and events for PlayMakers are completely free and open to everyone. That simply wouldn't be possible without the generous support of those who have already donated to the PlayMakers Fund since July 2020.
Play your part from just £3 a month. A donation today will spark creative fires and champion the voices of tomorrow; so please consider making a regular donation and help us spread the word. We know that times are hard and that demand for money is high, but every donation – however large or small – goes directly to supporting new voices and the lifeblood of new plays.


As a registered charity, we can Gift Aid donations so that every £1 you give can raise an additional 25p.
Registered Charity No: 1146483 | Company Limited by Guarantee No: 7593599






Play your part
Support our PlayMakers Fund today, and we will:
~ Acknowledge your support on our website;
~ Send quarterly updates from our Artistic Directors;
~ Invite you to future PlayMakers events.