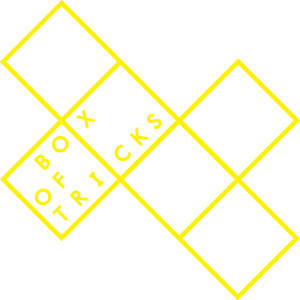 Casting Policy
Our Commitment
 Box of Tricks will adopt an inclusive approach to casting and we commit to:
- Promote theatre as an activity for all – we want to eliminate discrimination and encourage diversity across all areas of our work;
- Ensure equal opportunities for all actors regardless of ethnicity, race, gender, sexuality, age, physical ability, neurodivergence, faith or economic background; and
- Cast without prejudice. We will not specify any aspect of a character in a casting breakdown unless it is intrinsic to the story being told. We understand the importance of visibility, authenticity and representation onstage and we want to reflect the diversity of our society across our work.
We will adhere to Equity's Inclusive Casting Policy, Equity's Manifesto for Casting and the Trans Casting Statement insofar as they are consistent with our inclusive approach and the commitments set out above.
Equity's Inclusive Casting Policy
Women, black, Asian and minority ethnic, lesbian, gay, bisexual and transgender (LGBT+), and deaf and disabled artists have long experienced and continue to experience discrimination across the industry.
An increasingly diverse audience both wants and expects to see and hear itself reflected authentically in the media and its expectations are even higher of publicly funded theatres and broadcasters. Moreover, productions that go beyond a tick-box approach to diversity have demonstrated wide appeal to all audiences and delivered real commercial success.
Equity believes that inclusive casting is crucial to achieve both a balanced portrayal of women, black, Asian and minority ethnic, LGBT and Deaf and disabled people across the industry - providing both a level playing field for our members - and a realistic and authentic mirror reflection of UK audiences.
Equity's Manifesto for Casting
Too often, talented people aren't cast in roles they would be perfect for. They aren't given enough notice before an audition to secure childcare. They can't afford to travel to meet the casting director. They physically can't access an audition space.
This is all preventable. We are seeking to change the audition process, and ensure good practice principles are adopted which ensure that casting is fairer, clearer, less stressful and more inclusive for all. That's why we have created the Manifesto for Casting.
The manifesto seeks to give all talented performers a chance to excel, regardless of their age, gender, ethnicity, sexuality or socioeconomic background. It also underscores that actors should not be forced to move to London to pursue their careers, or give up their ambitions when they assume caring responsibilities.
Trans Casting Statement
This statement is a first step in our commitment to better support trans, nonbinary and gender nonconforming (GNC)* artists.
We will never cast, or endorse a production that casts, a cisgender person in a trans, nonbinary or GNC role.
We will actively seek casting opportunities for trans, nonbinary and GNC people in any role regardless of gender, acknowledging that they are currently underrepresented on our stages and screens.
We recognise that trans, nonbinary and GNC people have intersecting identities (including and not limited to ethnicity, disability, sexuality, class, faith, migrant status) that affect their access to opportunities.
We recognise that white voices are often centred.
We recognise that Black trans, nonbinary and GNC people face the toughest barriers due to anti-Black racism**. We are also aware that colourism is a huge issue***. We commit to challenging these issues through our casting.
We recognise that representation is just one part of a bigger conversation. In our commitment to this we understand we must invest time and resources to better our understanding of the imbalance faced in the arts by trans, nonbinary and GNC artists.
* The statement uses the terminology trans, nonbinary and gender nonconforming to acknowledge that not all nonbinary and gender nonconforming people identify as trans.
** The statement deliberately focuses on the intersection of Blackness and transness. This focus is important in the context of trans history and the activism of many trans women of colour for LGBTIQ+ civil rights, as well as in the context of today. A 2021 report by the Human Rights Campaign shows us that anti-trans fatal violence disproportionately impacts trans women of colour, particularly Black trans women. Anti-Black racism, misogyny and transphobia mean that Black trans women are most likely to suffer the real life effects of misrepresentation in media, arts & culture.
*** We can't talk about racism without talking about colourism. Colourism is the discrimination of darker skinned people and has had a detrimental effect on the Black community and other communities of colour. The representation of the Black experience on our stages and screens is often portrayed by lighter skinned and mixed race people. This has had a huge impact on who is valued, who is deemed to be desirable and who experiences more violence based on proximity to whiteness.