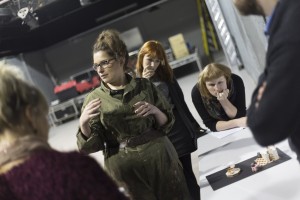 1. Tell us a little bit about your role
My name is Katie, I am the designer for the production and it is my job to create the world surrounding the characters and create the clothes that the characters will wear. With this show in particular, we are touring to many non theatre spaces, so a great deal of the design was crafting something that could be reconfigured in every space to fit. Some venues will have the full set, others will have a smaller section but hopefully everyone will be absorbed in the nostalgia, warmth and the love of the piece.
2. What attracted you to this play?
I really like chips.
On a serious note, I heard about this play when I was fortunate enough to be working on Plastic Figurines, I had SUCH a good time working with the company, that when I heard the synopsis of Chip Shop Chips, I was praying to be able to design it. Almost a year on and here I am! Having yet another wonderful time, with another wonderful team. Becky's writing is heart-warming and I have such a love affair with Eric, he is a wonderful character. The idea of this truly unique chip shop that has existed for generations has been very exciting.
3. With whom would you most like to share a chippy tea?
The Queen. What a conversation that would be? I reckon she's hilarious. If she's not available, give Benedict Cumberbatch a ring.
4. Who or what was your first love?
My fella, John, who came with me on New Years Eve, to the pier to research for this play. We ate chips and got DRENCHED. We had to warm up and clear our glasses in the hall of mirrors. We laughed the whole time though. Proper love that.
Cream cakes. It's a love that will last a lifetime.
5. Where are you most looking forward to visiting on the tour?
I don't know yet which venues I will be visiting but I know I am visiting Cumbria as my Brother and his Girlfriend live there. I can't wait to bring work to them! I know they'll love the story.
6. What do you put on your chips?
LOADS of salt and vinegar. Occasionally wedged in a Barm, (yes, it's a Barm) or with a good splash of Gravy.
Chip Shop Chips tours from the 17th February to the 23rd of March. Book tickets here.