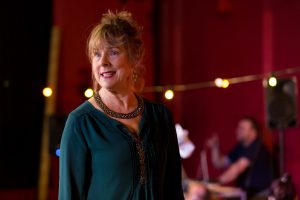 1. Tell us about your role
I play the part of Christine- a recently widowed lady who visits Booth and Sons' chip shop in the hope of rekindling her love affair with Eric – her first love when she was 17.
2. What do you love about the play?
The mixture of fun, comedy, pathos and the excitement of the interactive element with the audience. It's a different mix at every venue, but the story remains the same – plus the fish and chips are always great!
3. Tell us your chip shop memory?
Walking home from the chip shop as a child with the order I'd been sent to get, and poking my finger through the newspaper to pull out red hot chips.
4. Who was your first love?
Apart from a boy in my class at Infant School- it was a boy who played in one of the local pop groups In my town. His name was all over my satchel and pencil case – but I don't think he even knew I existed.
5. Where are you most looking forward to visiting on the tour and why?
Morecambe – because it features so prominently in the play, and also because it's somewhere I visited regularly in my youth (and still do!) It's close to my home town so I'm also looking forward to seeing friends and family in the audience. But I am very excited about visiting venues in other parts of the country and meeting new friends.
6. What's your order at the chippy?
Fish, chips, mushy peas, curry sauce, a pickled onion and scraps.
Chip Shop Chips is on a national tour until 21st April 2018 . Book tickets here.