1. If you were lost at sea with only one song, what would you choose?
Right now I'd take Cuckoo by Kathryn Williams with me. It's a strange dark song from an album of beautiful dark songs: Hypoxia inspired by Sylvia Plath's novel The Bell Jar. The lyrics go to places they shouldn't which is amazing. I've loved Kathryn William's songwriting since I was a teenager. She knows how to write a complex moving song without being shy of resolving a melody or delivering a killer chorus which she totally does here. It's great how nasty the lyric on the middle 8 is, especially as it's layered with all that lovely instrumentation.
2. You take one photograph to pin up next to your bunk, what would it be?
I have to go for the obvious and say my husband Vidar and my little boy Henrik. If I was crossing the high seas, riding out storms I'd need a reminder of them to see me through. Here they are in shadow form.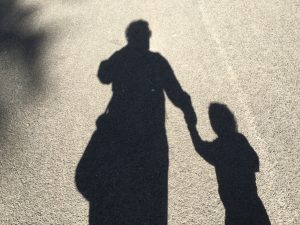 3. You have a copy of one poem to see you through the storms, what would it be?
I've picked Night Song by Adrian Henri. There's something about the blend of the pop and the literary in his work which I find addictive. He's not illusive but there's so much to keep digging for in his poems and often an overwhelming sense of longing that brings me back over and again. It's as if I keep searching for a happy ending that never comes. That's one of his big themes I think: time and it's finality. I lived on Percy Street near the city centre for a couple of years when I was younger, just round the corner from Mount Street where Henri lived for decades, and this poem reminds me of those streets, that time: paving stones and pigeons and the flashy heartbreaking glamour of being young and in love.
Narvik tours nationally from 31st January- 25th March 2017