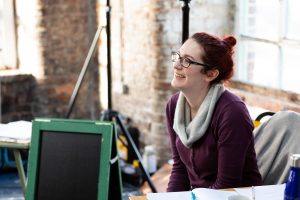 With The Last Quiz Night on Earth out on the road and receiving rave reviews, Director (and Joint Artistic Director of Box of Tricks) Hannah Tyrrell-Pinder gives us the low-down on Box of Tricks' brand-new production as it returns to Manchester for three nights at Hope Mill Theatre.
What drew you to commission The Last Quiz Night on Earth?
After the success of Chip Shop Chips in 2016 and 2018, we knew we wanted to develop our relationship with our new audiences, and continue to explore the possibilities of immersive touring theatre. Alison Carr is a writer whose work has been on our radar for a while, so we were actively looking for an opportunity to commission her.
Alison's wit, precision and emotional depth felt like a great fit for a project that breaks down the fourth wall between actors and audience while also embracing and celebrating the local communities we're visiting. 
How does the play fit in with your previous work as a director and with Box of Tricks?
In terms of Box of Tricks' previous output, The Last Quiz Night on Earth continues to follow the trend of well-crafted new plays from exciting playwriting voices.
In terms of my work as a director, it somewhat bucks the trend as I haven't directed an out-and-out comedy for Box of Tricks before, tending to be drawn to the more emotionally intense and harrowing material. That being said, an asteroid does crash into the Earth obliterating humanity at the end of the play, so I guess there's something of a through line!
 Describe your directing process.
I don't really think of myself as having a directing process as such, preferring to respond to the needs of each individual project and the various elements therein. Each playwright, play and company of actors is its own entity and so each project should be viewed as a clean slate, a chance to try something new.
I do like to begin my rehearsal period by interrogating the text in considerable detail, to give the actors a really strong grounding for performance – the more you've explored and questioned the text, delving deep into each character, the greater range of choices each actor has once they're up in front of an audience. And obviously I've got my favourite rehearsal games that make an appearance time and again.
And biscuits, those always make an appearance in my rehearsal room; if there's one thing I've learnt it's that you can't make a play without biscuits.
What was the best bit of advice you have been given in your career?
Trust your instinct –if something feels like the wrong decision it almost certainly is.
Why should people come and see the play?
Because it's got everything you need for a great night out –  great writing, a cracking cast and a quiz!
 What's next for Box of Tricks?
We've got a number of projects at various stages of development, so the next few months we'll be focusing on those pieces and their future productions.
Alison Carr's The Last Quiz Night on Earth tours to unusual spaces until 11 April. Full tour details and booking links can be found at https://bit.ly/LastQuizNight
#LastQuizNight