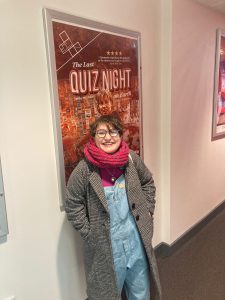 Today is my last day with Box of Tricks. The past 5 months have completely flown by, and there have been so many moments of joy from R&D weeks to data entry (weirdly) that I could use to reflect on my time here. It's hard to pinpoint exactly what to talk about, however as my time with Box of Tricks has been interlinked with the Last Quiz Night of Earth tour, I feel like there is a synergy between my growth and the planning, delivery and evaluation of the project.
One of the main skills I've learnt and have enjoyed over the process has been engaging with and listening to audiences. This has happened in various means including conversations at tour venues, interviewing for Vox Pops and through inputting feedback surveys. I feel I have the authority to say that I am somewhat of an expert in inputting audience survey data now. There is something surprisingly therapeutic about inputting data into a big spreadsheet…only for a couple hours though otherwise the tedium really starts to set in. However, doing it in short bursts in-between other tasks can provide a much-needed brain reset throughout a busy work week.
This data culminated in an audience survey report, which I can say with confidence is my magnum opus. The intersection where cultural policy, audience engagement and bisexual colour palettes collide. Deep diving into our audiences' hobbies, demographics and thoughts on the show been so rewarding and I feel like I have a greater understanding of who is watching theatre and how to engage with them in the future. As a plus this process has also allowed me to use skills, I've acquired during my MA practically and in a way that will tangibly help communities in the future.
In a plot twist truly no one saw coming, I can now safely say that I am a bona fide excel whiz kid, tables, formulas the whole shebang- basically, if anyone needs any cells merging hit me up.
It is hard to condense everything else into an easily digestible blog post, but I'll do my best:
1. Colleagues are there to lean on for support if needed.
2. Asking for help is not an admission of failure and is always preferable to floundering.
3. Inputting audience survey data is… tedious (but you get to read a lot of silly answers).
4. Fundraising experience is vital in this economy.
5. The Arts Council's Let's Create document is imbedded into every facet of running an arts organisation.
6. Press nights are fun…but try not to drink 3 bottles of wine.
Over this internship I have learned so much and had so many incredible experiences, growing not only as a professional but in myself and confidence. I am leaving Box of Tricks more assured in my choices and creative practice than I thought was possible, with a deeper understanding of my MA, audiences, and theatre-making as a whole. It feels like I'm on the precipice, in-between the end of one era and the beginning of infinite eras to come. There's a sadness over leaving but so much hope for the future. Here's to new challenges, new horizons, and new friends.
~ Arisha-Jane Marsh, Assistant Producer (Arts Emergency Internship)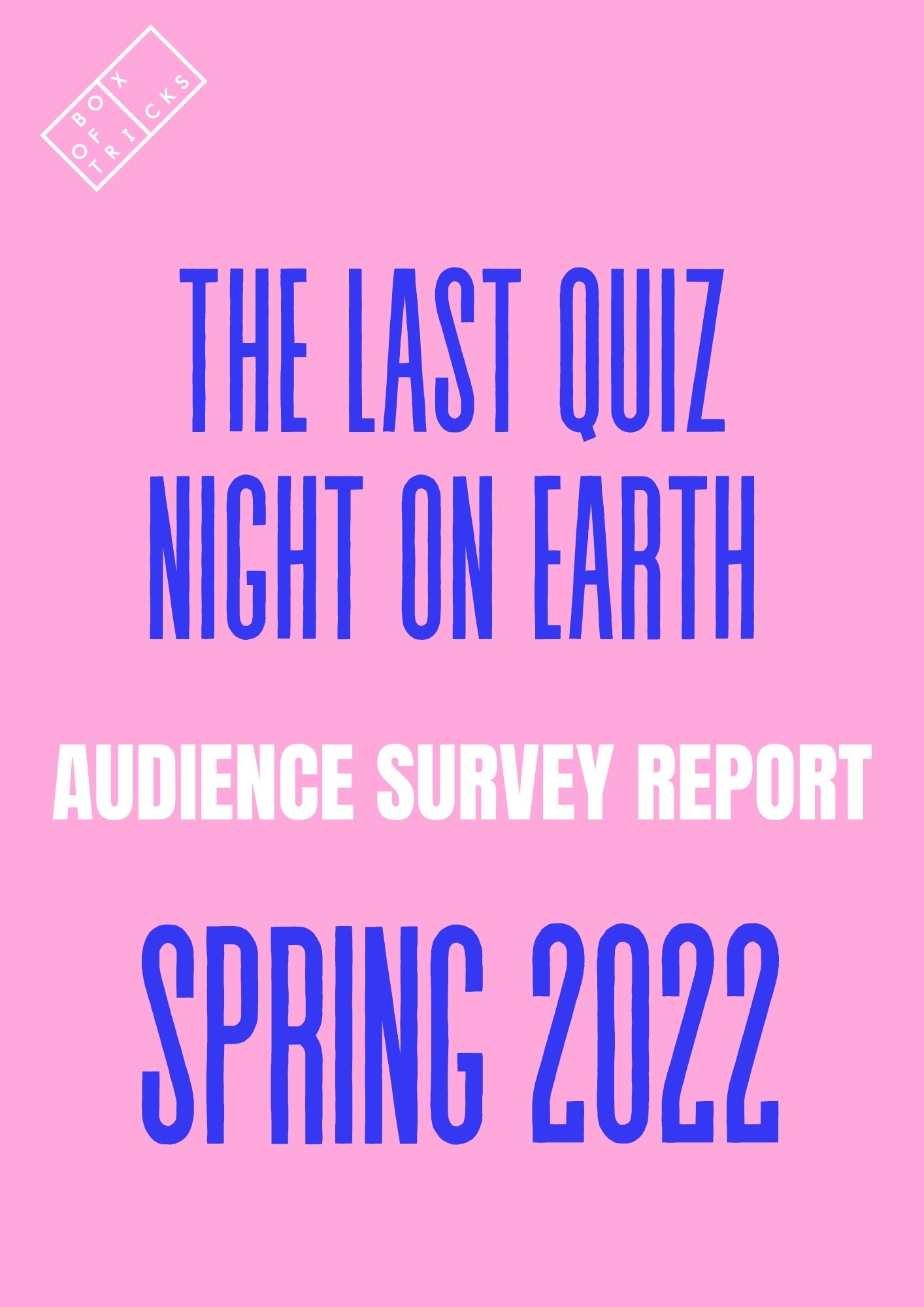 Read the Audience Survey Report for our tour of The Last Quiz Night on Earth here.
Advertised via the Arts Emergency network, our paid internship programme is tailored to meet the interests of an early-career theatremaker and includes experience of producing, developing new plays, rehearsals, fundraising, touring new work and script reading – giving a hands-on, 360-degree experience of working within an active new writing theatre company. As part of our ongoing Positive Action strategy, the internship supports Arts Emergency in offering young people a fair start in the arts and a meaningful pathway into the industry.