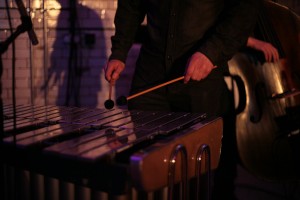 I first worked on Narvik for Everyman Playhouse's festival Everyword in 2013. It was a ten minute version in the Rotunda space in the Old Blind School and it was a great building to work in. It was dusty and messy but had a lot of character. The three of us in the band – me, Lizzie and Martin – were able to perform on the balcony level above the audience and actors. Martin and I talked a lot about what sounds we wanted and we've kept some of those elements such as an analogue synth, unusual metal percussion and humming.
In a development week in the Playhouse studio in 2014 we were able to do a much longer version of the play and here we were able to experiment more and include more songs. We added a harmonium which created great textures and also used a laptop for sampled sounds. We learnt that we wanted to keep it even more acoustic and that we could really do with a piano for the production. It is such a versatile instrument and we could see it making sense with all the locations too.
The fact that the project has been worked on over several years, has made it possible to absorb the play and the subject matter better. It's been great to be involved so early in the process. Lizzie and Hannah have a real appreciation of the importance of the music in the storytelling.
I'm really looking forward to getting stuck in and into that bubble that a production is. It's a great opportunity to be able to compose and also perform the music every night. Working in songwriting and composing can be lonely sometimes so collaborating with a big team will be great.
Vidar Norheim – Composer and Musician
NARVIK runs at Liverpool Playhouse Studio 8th-19th September. Book tickets here