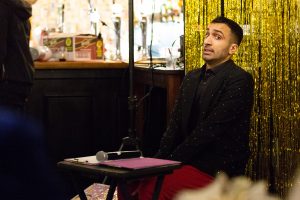 What would your drink of choice be to see in the end of the world (and why)?
My choice of drink would be Vodka Lime Lemonade. I always get this and it does the trick. Why change it?
If you could spend the last night on earth with one person who would that be?
Mum. The best person I know hands down. No one even comes close and I am not exaggerating.
What's your local pub? What makes it special?
Sir Robert Peel – the reason why it is good is because you can go there at any point and it is always a good laugh. It has a bit of everything and everyone I know goes there. You can go there for food and drinks or just to hang out. When it is packed…it is special!
Who would be on your dream pub quiz team?
I would like David Attenborough. I mean that man knows everything about everything so it is a no brainer.
What would the name of your quiz team be?
The Real Winnerz
What's the best (or worst) prize you've won in a quiz?
I won a bottle of champagne.
What's your favourite TV quiz show and why?
A League of Their Own – I am a big sports fan and that show is all about sportsman and they bring on great guests. It is always funny with James Corden. He really knows how to host an interesting show that is always good to watch and full of surprises.
What would your Mastermind specialist subject be?
I would say Sport. That is something I am most passionate about and know about.
What would be on your soundtrack for the End of the World?
It has to be something upbeat, something we can all dance to. I would say "Don't Stop Me Now" by Queen. We can all dance and sing to it and everyone knows it! Perfect.
 And finally, what's your go-to bar snack or pub grub?
I am a big burger fan so it would be a Classic Chicken Burger with Sweet Potato Fries with Garlic Mayo and Fanta with no ice. That is perfection right there.
Catch Shaban as Rav, the Quiz Host With The Most, as he tours with The Last Quiz Night on Earth until 11 April. Full tour details are at https://bit.ly/LastQuizNight