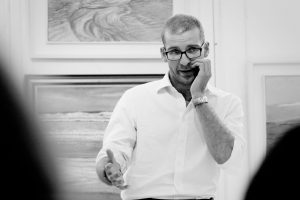 Tell us about your role in Plastic Figurines?
I am the composer for the play; which has involved reading the script and mocking up several sound-boards then running these by Adam to ensure that I had understood and translated the play's themes into sound.
Next, Adam gave me some sound/mood/atmosphere ideas.
Finally, I spent a few weeks intensely writing themes which might fit into specific and general areas of the play.
Once I was happy (and Adam was happy) I mixed and mastered the pieces and sent them on their merry way!
Describe the play in three words?
The play is: moving, funny, informative.
What are you most looking forward to about the London run?
I think the London run will be amazing as it will bring the play to a much broader audience.
What was your favourite toy as a child?
My favourite toy as a child was my Transformer: 'soundwave'. I broke him over my brother's head one afternoon though: I was gutted: my brother was in pain!
Why should people come and see Plastic Figurines?
People should come and see Plastic Figurines as it is not only an enjoyable theatrical experience but it raises an important issue.
Plastic Figurines runs at New Diorama until Saturday 22 October. Book now: http://newdiorama.com/whats-on/plastic-figurines.