Picture a City
Five snapshot plays capturing Liverpool...
22 October – 26 October 2012
"When I dream I dream of her sometimes and it's always nice – it always starts with like me and her walking down through the city..."
Box of Tricks has been gathering photographs of the city from all across Liverpool.  Each night of the Everyword Festival, the city will be imagined anew by a different Liverpool writer – a snapshot of a story, inspired by a picture of the city.
Five snapshot plays from some of the most exciting new writing talent including Lizzie Nunnery, Luke Barnes, Laurence Wilson, Ella Greenhill and Sarah McDonald Hughes.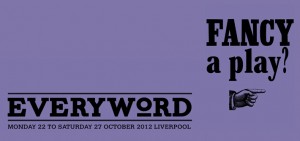 Tweet
Creative Team:
Directors: Adam Quayle and Hannah Tyrrell-Pinder Playwrights: Lizzie Nunnery, Luke Barnes,Laurence Wilson, Ella Greenhill, Sarah McDonald Hughes

Photo Gallery