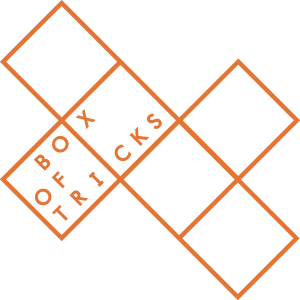 Respect in the Workplace Policy
Box of Tricks Theatre Company is committed to creating a work environment (in person and via digital spaces) free from bullying and harassment, where everyone is treated with dignity and respect.
The company will not accept bullying or harassment against any members of its staff, volunteers or freelance artists. Bullying and harassment is behaviour that makes someone feel intimidated or offended and harassment is unlawful under the Equality Act 2010.
~ Harassment is unwelcome conduct which has the purpose or effect of creating an intimidating, hostile, degrading, humiliating or offensive environment for someone or violating their dignity.
~ Bullying is the intimidation or belittling of someone through the misuse of power or position which leaves the recipient feeling hurt, upset, vulnerable or helpless.
Examples of bullying or harassing behaviour could include:
~ Spreading malicious rumours
~ Unfair treatment
~ Picking on or regularly undermining someone
~ Denying someone's training or promotion opportunities
~ Unwelcome physical conduct ranging from touching to serious assault
~ Unwelcome sexual conduct ranging from inappropriate comments to assault.
~ Verbal and written harassment through jokes, racist remarks, offensive language, gossip, slander, sectarian songs, threats, letters and defamation on social media.
~ Harassment or discrimination in relation to an individual's sex, sexual orientation, race, colour, religion, beliefs, disability, age or some other personal characteristic.
~ Isolation or non-cooperation, exclusion from social activities, unmerited criticism.
All staff and freelance artists working at Box of Tricks Theatre Company have a responsibility to help create and maintain a work environment free of bullying and harassment, by being aware of how their own behaviour may affect others, and by identifying when the behaviour of others is unacceptable.
Employees, volunteers and artists should therefore recognise and respect that each individual has their own boundaries on what constitutes acceptable behaviour.
Procedure for dealing with bullying and harassment
If any member of staff, artist or volunteer working at Box of Tricks Theatre Company feels that they are subject to bullying or harassment, or if they see bullying or harassment happening, please follow the procedure below:
1. If possible, try to resolve the problem informally, for example, through an informal discussion with the person responsible for the conduct (particularly if that person is unaware of the effect of their behaviour). Please make the person aware of what behaviour you find offensive and unwelcome, and ask the person politely to stop it.
2. Alternatively, if you do not feel comfortable approaching the person on your own, please seek assistance in resolving the problem. For freelance artists, please contact the Artistic Directors or the Producer. Each of these members will speak to you in confidence, hear your concerns, offer advice, support and agree with you an approach to seek to resolve the matter.
3. If an informal approach does not resolve matters, you can make a formal complaint to the trustees (trustees@boxoftrickstheatre.co.uk) via email in the first instance.
In addition, freelancers may wish to consult their unions for additional support. For actors, Equity's grievance policy is found in the Equity Handbook, for other freelance artists they should follow the ITC or UK Theatre formal grievance policy.
4. For core team & volunteers, in addition to the steps above, they should raise a formal complaint with the Board of Trustees via email (trustees@boxoftrickstheatre.co.uk) in order to address the situation.
All formal complaints will be investigated promptly and sensitively, maintaining confidentiality as far as possible. If appropriate, disciplinary proceedings may be brought against the person responsible for any bullying or harassment. At this stage, the Independent Theatre Council (ITC) will be notified and will advise on formal disciplinary and grievance procedures. If you wish to contact the ITC please email Jackie Elliman (j.elliman@itc-org.uk).
Further support:
~ Theatre Helpline (0800 915 4617) is a free and confidential support line available 24/7 for anyone working in theatre and performing arts in the UK.
~ Safe Spaces campaign by Equity. https://www.equity.org.uk/getting-involved/campaigns/safe-spaces