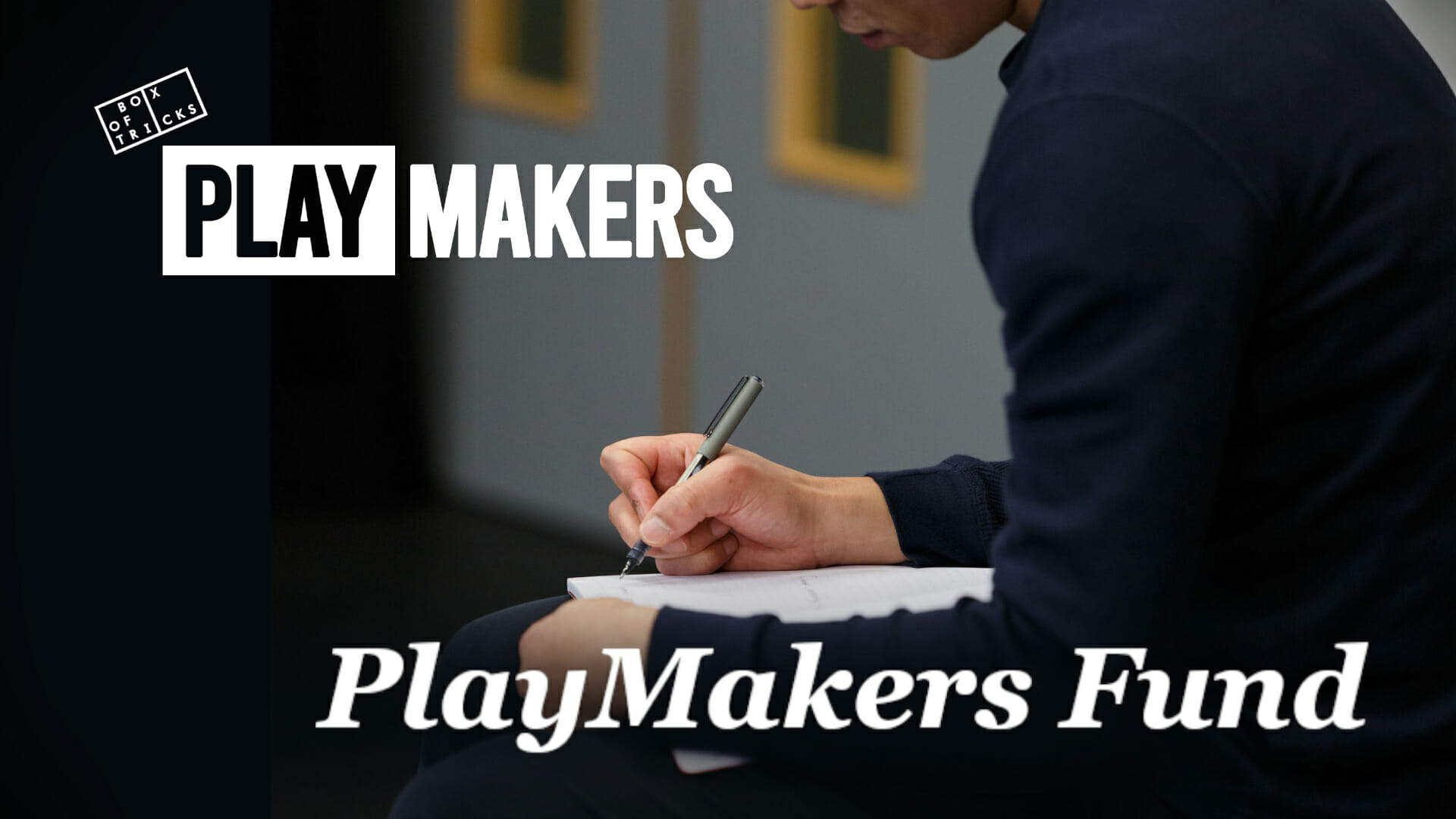 Support our PlayMakers Fund
"Every story told. Every voice heard."

To say that 2020 has been one of the toughest that Box of Tricks - that the entire arts sector - has faced would be an understatement. As a company, we've risen to that challenges that the onset of the global pandemic has thrown at us, challenges that have affected all our lives and decimated the theatre industry.

Since the pandemic struck, we've weathered the cancellation of our tour of Alison Carr's The Last Quiz Night on Earth, we've adjusted to the 'new normal' of remote working and we've watched with heavy hearts as friends and colleagues lose their jobs and much-loved venues close, perhaps for good.
In all that time, we've been running on reserves and laying the foundations for future theatre without a penny of government help.
But Box of Tricks is still fighting and we're still here. And whilst we may have postponed productions for 2020, we've reimagined how we can continue our mission to support Northern playwrights now and in the future and forged a sense of community at this time of crisis.
Here's the low-down on what we've been up to:
~ We've launched our PlayMakers Network, an accessible, open-to-all resource for Northern writers to connect, collaborate and create;
~ We've delivered online Writing Masterclasses and Q&A sessions from leading playwrights to nearly 200 participants, creating a digital archive of online videos;
~ We've already supported and advised 17 theatremakers through one-to-one Creative Surgeries on a wide range of topics, from new writing to company structure;
~ We've matched 24 Northern writers in the first two cohorts of our newly-launched Pen Pals scheme with each writer developing a full-length script over six months with dramaturgical support from Box of Tricks;
~ We've received over 200 scripts through our open submissions windows for Pen Pals and PlayBox, and doubled down on our commitment to amplify underrepresented voices with the creation of a Positive Action Policy;
~ We've shared Kathy in Lockdown, our online epilogue to the cancelled The Last Quiz Night On Earth, reaching over 8,000+ people across our social media channels;
~ We've commissioned PlayBox alumnus Billie Collins to develop her bold and beautiful Too Much World at Once through our New Tricks programme for a future season;
~ We've launched our inaugural Screen/Play Award in partnership with Sky Studios, a bold new initiative to seek out Northern talent from underrepresented groups with two writers receiving £10,250 to develop a brand new play and a short screenplay with us in 2021.
And this is just the beginning. Playwrights are the heart of our all our plans as we build a brave new world full of creative possibility. All activities and events for PlayMakers are completely free and open to everyone. We wouldn't have been able to make that possible without the generous support of those who have already donated to the PlayMakers Fund launched back in July.
But the fight goes on. A donation today will directly support our work with the playwrights of tomorrow; so please consider making a regular donation. And pass it on: tell your friends, your neighbours and your work mates about the amazing work Box of Tricks does to champion new voices and untold stories and help us to deliver our work now and for many years to come.
We know that times are hard and that demand for money is high, but every donation – however large or small – goes directly to supporting new voices and the lifeblood of new plays. We've got big, bold plans for 2021 and beyond, so watch this space: we're not going down without a fight!






Play your part
Support our PlayMakers Fund today, and we will:
~ Acknowledge your support on our website;
~ Send quarterly updates from our Artistic Directors;
~ Invite you to future PlayMakers events.