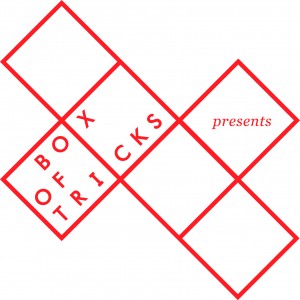 The Eagle Inn, Salford
Thursday 16 June 2016, 7pm
This year, Box of Tricks turns ten. We're throwing a party to celebrate a decade of new play making and to launch our tenth anniversary season.
Placing playwrights at the heart of everything we do, we're planning a night of theatre past, present and future. We've asked ten brilliant Manchester playwrights to write a one-page play for Picture a City. We'll also be turning back the years with a retrospective of new plays from our back catalogue, A Dramatic Decade. Not only that, but there'll be a banquet of delicious Gujarati street food from Samosa Shack included in your ticket price!
Picture a City: Ten snapshot plays from some of the most exciting new writing talent from our hometown of Manchester. Inspired by a picture of the city taken by actor and photographer Lucas Smith, each playwright will reimagine the city through the lens of a one-page play.
Playwrights: Cathy Crabb, Daniel Foxsmith, Chris Hoyle, David Judge, James Leach, Sarah McDonald Hughes, Becky Prestwich, Jamie Samuel, Francesca Waite, Lindsay Williams.
A Dramatic Decade: We're celebrating the last decade with a retrospective of new plays from the next generation of playwrights. Extracts from Plastic Figurines, Whispering Happiness, Heart in Mouth, In Doggerland, Narvik, The Turn, True Love Waits, Streetlights & Shadows, What Cheryl Did Next and This is Only a Test.
Playwrights: Ella Carmen Greenhill, Kenneth Emson, Daniel Kanaber, Tom Morton Smith, Lizzie Nunnery, Sian Owen,  Evan Placey, Becky Prestwich, Leo Richardson, Tom Wainwright.
Advance tickets are just £6 (including food)!
#TricksTurns10