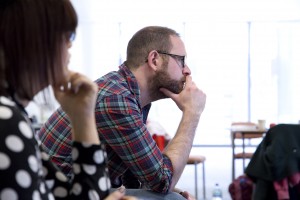 This year, Box of Tricks celebrates a decade of new play making. Joint Artistic Director Adam Quayle reflects on the last ten years and picks 10 things he loves about new plays and Box of Tricks…
1. The thrill of the new… Whether it be uncovering a new story, discovering a new playwright, giving a platform to a new voice, new plays are the lifeblood of theatre and keep it fresh, relevant and alive.
2. Working with playwrights… One of the great joys of producing new plays is collaborating with playwrights to tell the stories they want to tell. Every playwright has something different to say, has such a different approach, that you tailor your process to that person and that project. It definitely keeps you on your toes!
3. Creating characters with actors… Bringing a new character to life in the rehearsal room requires a unique skillset and real openness and generosity. I love sparking off actors and working together to find a character and tell a new story as a company.
4. Audiences connecting with a new story… After rehearsing a new play, something untested and as yet unseen, it's always nerve-racking when you first put a play in front of an audience. It's a heady mix of adrenaline, fear and excitement. But I love being in amongst an audience, going on the journey of the play with them, and experiencing the peaks and troughs, and sensing the unique dynamic of audience and actor when a play is flying.
5. Touring… Taking new plays all over the country has become a big part of what we do at Box of Tricks. We love that romantic notion of travelling rogues and vagabonds, pitching up somewhere new and telling our story on a different stage. Away from home, it's great to look around a room full of people and not recognise a single face.
6. Watching playwrights succeed… Over the last ten years, we've championed the next generation of playwrights. In that time, we've seen so many of the playwrights we've worked with grow, develop and achieve success: attracting critical acclaim, winning awards, transferring plays to the West End, writing for TV. It's a privilege to watch those successes and know you have played a part, however small, in that journey.
7. Future life of new plays… We've long bemoaned the lack of a future life for new plays. So many great plays are produced once never to see the light of day again. I think we have responsibility as a company to ensure new plays are seen by as many people as possible and for playwright's work to be celebrated far and wide.
8. Finding new talent, new voices… Since 2006, we've worked with countless playwrights, actors, designers, creatives – those who are more experienced and established, and those who are young and emerging. For us, it's an essential element of what we do. Playwrights are at the heart of everything we do: we commission new plays through our New Tricks programme and support early-career Manchester playwrights through our PlayBox placements.
9. Commissioning new plays… After taking stock through organisational development a couple of years back, we moved to a commissioning model that supports playwrights from the ground up. We identify writers that excite us and commission them to write a new play from the seed of an idea, developing that play through dramaturgy and workshopping, for future production.
10. Manchester theatre scene… Relocating from London four years ago, Box of Tricks is proud to call Manchester home. For us, it's much more than where we're based; it's a source of inspiration and a hotbed of talent. So much is happening and changing locally, it feels like a really exciting time to be a Northern company.
Come help us party and celebrate a decade of new play making! Book your tickets for our 10th Birthday Party at Eagle Inn, Salford, on Thursday 16th June. More info this way…
#TricksTurns10