First up in our Starter For Ten… series of quick-fire questions, it's the writer of The Last Quiz Night on Earth, Alison Carr!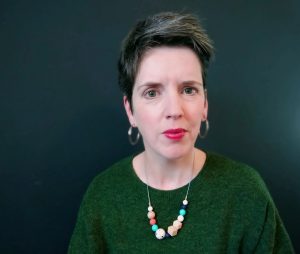 What would your drink of choice be to see in the end of the world (and why)?
Gin and tonic. It's my drink of choice in any and all situations. I'm not even that bothered what type of gin or what type of tonic.
If you could spend the last night on earth with one person who would that be?
Imelda Staunton. Then I could fangirl at her so hard and not worry about regretting it the next day cos there is no next day. 
What's your local pub? What makes it special?
Probably the Northumberland Hussar. It's cosy and does really nice food.
 Who would be on your dream pub quiz team?
My parents. My Mam is an absolute font of general knowledge apart from sport but, wait for it, my Dad knows all about sport. Dream team. I'd do the writing down.
What would the name of your quiz team be?
You're a Quizzard, Harry.
What's the best (or worst) prize you've won in a quiz?
I don't think I've ever won a quiz. I got a Pot Noddle as a Christmas present once.
What's your favourite TV quiz show and why?
Pointless cos I'm quite good at it. I only enjoy things I'm good at. I also like Richard Osman cos he barely tolerates Alexander Armstrong and I'm waiting for the day he finally snaps.
What would your Mastermind specialist subject be?
Cagney and Lacey. Or the career of Victoria Wood.  
What would be on your soundtrack for the End of the World?
I know so many end of the world songs after writing the play, I've got a dedicated playlist on Spotify. I'm a big fan of The Final Countdown, Waiting for the End of the World by Elvis Costello and Jimmy Buffett's Party at the End of the World is a song I didn't know before that now pops into my head pretty regularly. 
And finally, what's your go-to bar snack or pub grub?
Bacon Fries. They're everything.
Alison Carr's ★★★★★ production of  The Last Quiz Night on Earth is now touring across the North until 3 April. Click here to book.