Next up in our Starter For Ten… blog, we put ten quick-fire questions to Matthew Khan, who plays Rav in The Last Quiz Night on Earth!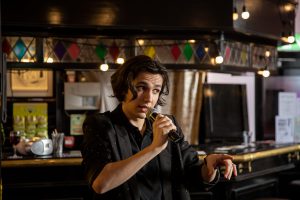 What would your drink of choice be to see in the end of the world (and why)?
At the moment I'm partial to a double kraken and coke.
If you could spend the last night on earth with one person who would that be?
Bloody hell, erm it's not one person but it's got to be my family for sure!
What's your local pub? What makes it special?
My local is the Bricklayers Arms in Salford. Cheap drinks, good laugh and you'll always meet some proper characters.
 Who would be on your dream pub quiz team?
Probably just with my mates, no point winning if you're not having a laugh at the same time .
What would the name of your quiz team be?
West Craven Willies.
What's the best (or worst) prize you've won in a quiz?
I won a pie. Cheese and onion. Top tier.
What's your favourite TV quiz show and why?
Would I lie to you.
What would your Mastermind specialist subject be?
Pokémon.
What would be on your soundtrack for the End of the World?
I'd put on the playlist from my 21st birthday, because it absolutely slaps.
And finally, what's your go-to bar snack or pub grub?
Bangers and mash babyyyy!
Check out Matthew Khan in action as Quizmaster Rav in The Last Quiz Night on Earth – now touring across the North until 3 April. Click here to book.