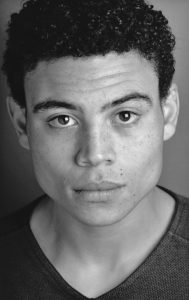 Ahead of our national tour of SparkPlug next Spring, Box of Tricks is excited to share that playwright David Judge will play the part of Dave in his personal and powerful new play.
David Judge is a poet, playwright and performer from Manchester. During his PlayBox attachment to Box of Tricks in 2014-15, David wrote his debut play skipping rope which went on to be a finalist for the prestigious Alfred Fagon Award 2015 and was shortlisted to the last 40 of the Bruntwood Prize 2015. David was Talawa writer-on-attachment with the Royal Exchange 2016-17 during which time he wrote PanLid which was presented by Talawa and HOME as part of PUSH Festival in January 2018.
Commissioned through our New Tricks programme, David has written SparkPlug: a new play about family, race, identity and love. Inspired by autobiographical events and exploring the playwright's background as an actor and spoken word artist, SparkPlug is a lyrical and energetic monologue that examines what family means in today's society.
David comments: "As a 'man of colour' my voice as a writer has become a valued weapon, loaded and aimed at those without. As a 'man of colour' I sometimes feel pressured to speak for a community I know nothing of and feel I am being recruited to hate those without, the 'white man'. This fight both inside and outside of myself makes me question where my loyalties lie. Who am I loyal to? And who to me? The answers are straight forward; my biological Father, my 'Black' left me before I was born; my biological Mother, my 'Blood' left me when I was seven years old; the only person who stuck by me, from boy to man, who grew and shaped me into the man I am today was a white man. A white man with love and hate tattooed on his knuckles, with a ginger perm, with a Ford Capri, with Rod Stewart constantly on the stereo. So out of my loyalty to him, I have used my voice to write a play about the man who made me one. My Father. I hope it's enjoyed."
As an actor, David's credits include: The Things We Wouldn't Otherwise Find (Leeds Playhouse in association with Leeds Libraries); Fatherland (Lyric Hammersmith);  Messiah (Bridgewater Hall); The Kitchen Sink (Oldham Coliseum); The Caretaker (Bristol Old Vic and touring); Fatherland, Scuttlers, Much Ado About Nothing (Royal Exchange); Statements (Jermyn Street Theatre); Schoolboy/Lover (West Yorkshire Playhouse); Scrappers (Liverpool Playhouse); A Taste of Honey (Sheffield Crucible); Northern Spirit (Northern Stage).
SparkPlug tours nationally from 13 February – 13 April 2019. Press Night on Thursday 14 February 2019 at HOME, Manchester. 
All press enquiries:
Holly Croft, Chloé Nelkin Consulting
E: holly@chloenelkinconsulting.com | M: 0203 627 2960
W: www.chloenelkinconsulting.com