1) If you were lost at sea with only one song, what would you choose?
I think morale would be very important when lost at sea so I'd be singing 'Always look on the bright side of life' to keep the bleak thoughts at bay.
2) You take one photograph to pin up next to your bunk, what would it be?
Reaching home would be my number one objective and to keep me focused on that I've included a humorous hand drawn map of Liverpool by Stephen Walters to remind me of all the memories associated with the city.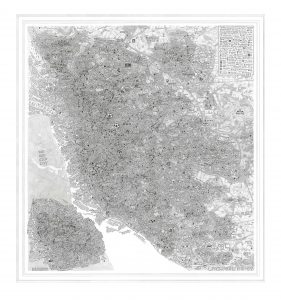 3) You have a copy of one poem to see you through the storms, what would it be?
The poetry I'm drawn towards tends to be on the dark side which I don't think would be helpful when lost at sea so I'd probably stick with this lighthearted rhyme.
To amuse emus on warm summer nights,
Kiwis do wee wee's from spectacular heights.
Narvik tours nationally from 31st January- 25th March 2017.