This week, we were joined by work-experience student Charlie Perry, from St Ambrose Sixth Form College. Charlie is studying A-Level Drama, and is keen to pursue a career in the theatre, and he's been fantastic to have around the office – from offering to help wherever he could, to writing a lovely blog about his experience with us, which you can read below.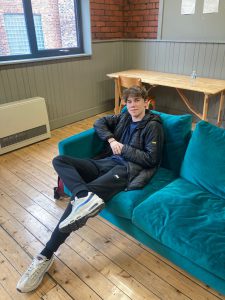 Currently, I am looking to study a combined writing and acting course at University, which is why Box of Tricks was the perfect place to gain work experience. Adam and Hannah were able to provide me with this opportunity when it felt impossible to get involved with any theatre company in this wy.
Initially, I met Hannah, who treated me as though I was a member of the team straight away. I proceeded to meet the rest of the team who were in that week: Adam, Billie, Justina and Marcy. They welcomed me and ensured that the working environment was both comfortable and enjoyable. Their insight into the industry was extremely helpful for somebody looking to become more involved, which was useful for me as a writer and actor.
During the week, Hannah ensured that the experience was engaging by involving me in R&D workshops with Natasha Cottriall, who had been developing her script that she is looking to perform soon. Both Hannah and Tash made sure that my voice was heard, by listening to my questions, opinions and suggestions that could be implemented into the piece. This gave me a further insight into how scripts can be developed and adapted (and the amount of thorough research that goes into one). This was very useful to me, as I am now able to take this knowledge and use it when developing my own future projects.
This was not the only thing that was made available to me by the team, during the week, I was able to read initial drafts of scripts that the company had been working on or helping to direct. Adam ensured that my opinions were heard when giving my feedback on the script, whether positive or negative. This was also extremely useful to me, as it enlightened me of the process behind making critical decisions when producing a script. It also demonstrated that any kind of constructive feedback is useful, something that I will certainly take away for the future.
Overall, my time at Box of Tricks was engaging, fun and provided a clear insight into how a theatre company tends to operate. Meeting individuals from the industry was useful, as it provided help and guidance, whilst the individuals themselves were approachable and dedicated to their work. It is unfortunate that I was only due to stay 5 days, however, the team have ensured that any questions in the future will be answered and any help will be given.