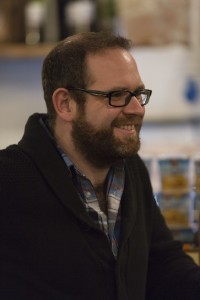 1. Tell us a little bit about your role
I'm one of the Artistic Directors of Box of Tricks and I'll be directing Chip Shop Chips. Commissioned and developed through our New Tricks initiative over the last couple of years, I can't wait to bring the play to life and tour it across the North.
2. What attracted you to this play?
As soon as playwright Becky Prestwich approached us with the idea for what is now Chip Shop Chips, I was sold. A brilliant new play with a chippy tea? What's not to like? I loved the idea of a whole night out: your dinner, a play and even some Northern Soul! Having never directed anything like this, an immersive play set in non-theatre spaces, I was attracted to a different type of theatre that breaks down the traditional audience-performer barrier. Moreover, Becky is a brilliant writer and has written a beautiful piece with a big heart with chips on the side.
3. With whom would you most like to share a chippy tea?
Tough question! A big fan of Elbow, I reckon Guy Garvey would be a good companion for a chippy tea. Having seen him live a few times, I reckon he'd have good chat (and probably a fish pun or two!)
4. Who or what was your first love?
Before I had eyes for the opposite sex, football was probably my first love. A kick about on the rec with jumpers for goalposts, swapping Panini stickers ("got, got, got, need, got…") and watching the Mighty Robins (Altrincham FC) on a cold Saturday afternoon, warmed by hot Vimto, at Moss Lane. I'm still quite partial to catching Alty as and when I can.
5. Where are you most looking forward to visiting on the tour?
I love touring: taking a play to new audiences each night. With this one, I'm particularly looking forward to playing on people's doorsteps, in their local chippies, village halls, libraries and community centres. If I had to choose a particular date, I'd say I'm most excited about The Hub in Salford because it'll be our home leg and kicks the tour off.
6. What do you put on your chips?
For proper chip shop chips, it's a simple equation for me: a healthy dose of salt and vinegar plus a good dollop of tomato ketchup.
Chip Shop Chips tours from the 17th February to the 23rd of March. Book tickets here.