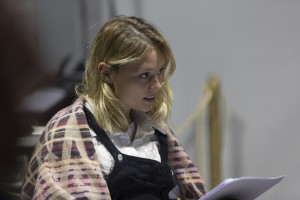 1. Tell us a little bit about your role
I'm playing the role of Jasmine. She comes across a little gobby at first! Typical, cynical teenager. However, she doesn't fail to make you laugh and her classic one liners pack a punch. Jasmine loves her Nan and will do anything she can to care for her. Although, she seems very sure of herself there's definitely a softer, more naive side to Jasmine that we see develop throughout the evening.
2. What attracted you to this play?
Well, being a local Lancashire lass myself and a massive fan of fish and chips it was hard not to be attracted to this play! Becky's writing has heart and soul and is far more than a comedy. When first reading the script it made me howl with laughter whilst filling up with tears. An amazing concept with a touch of home and some brilliant characters!
3. With whom would you most like to share a chippy tea?
Probably my mum on a Friday!
4. Who or what was your first love?
My first bonkers boyfriend. He came out of nowhere like a big, bouncy, crazy monkey. After that I'd have to say fish, chips and gravy stole my heart with loads of salt and vinegar!
5. Where are you most looking forward to visiting on the tour?
Pretty places.. Lytham, Harrogate and last but not least Manchester! Home is where the heart is after all!
6. What do you put on your chips?
GRAVYYYYYYYYY
Chip Shop Chips tours from the 17th February to the 23rd of March. Book tickets here.