Merry Christmas one and all! We're very excited here at Box of Tricks Towers. Another year nearly over and a new one just about to begin…
We kicked off 2018 working with ALRA second year acting students on Approaches to New Writing in January. Over three weeks, we gave the students an insight into how to approach new plays as an actor. We'll be returning next month to deliver new sessions with the current second years.
In January, we returned to HOME for our day-long PlayBox Takeover 2018 where we showcased the three plays developed through our PlayBox 2017 programme and delivered workshops for local playwrights and theatremakers. Giving a platform to our PlayBoxers, three sold-out rehearsed readings – 30 DAYS by Furquan Akhtar, MÖBEL by Patrick Hughes and LAND'S END by James Harker – championed the next generation of playwrights alongside a Writers' Breakfast and a workshop on Touring New Work.
Throughout February to April, we took the celebrated Chip Shop Chips by Becky Prestwich back out on a tour of non-theatre spaces across the UK. A Northern Sole love story and a chippy tea, Chip Shop Chips headed to village halls, libraries, pubs and community centres in the heart of local communities. Another sold out tour, over 3000 people saw the play nationwide, serving up as many chippy teas along the way.
This year also saw a changing of the guard at Box of Tricks HQ [Associate Producer: A Fond Farewell and a Warm Welcome…]. In May, we said a fond farewell to Associate Producer Amy Fisher who left for pastures new after three years with Box of Tricks. She headed to Northern Stage in Newcastle and was then appointed Creative Producer at Stephen Joseph Theatre in Scarborough. In September, we welcomed Max Emmerson, who joined us as our new Associate Producer from Royal Exchange.
In the Summer, we embarked on a new New Tricks commission with playwright Lizzie Nunnery following the success of the award-winning Narvik last year. Researching life as a refugee, we delivered Finding Your Voice creative writing and music workshops for women from Liverpool's Syrian, Kurdish and refugee communities in June and July. These workshops have helped inform the development of new play Raqqa which explores the redefinition of women in war.
In October, we shared a work-in-progress of Raqqa – a new play with songs – at Journeys Festival International alongside a rehearsed reading of People of Nowhere, a play originally commissioned for World Refugee Year 1959-60.
Looking ahead to the New Year, Associate Designer Katie Scott delivers an Intelligent Design Workshop: Big Ideas for Small Vans with Artistic Director Hannah Tyrrell-Pinder on Saturday 26 January at HOME's Push Festival 2019. If you're a local theatremaker interested in the director-designer relationship, and designing on the small scale, be sure to book now!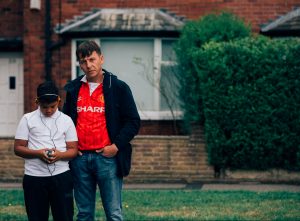 SparkPlug by David Judge opens at HOME for two weeks from 13 – 23 February before embarking on a nine-week 18-venue national tour until 13 April 2019. Starring and written by David Judge, SparkPlug is a punchy and poetic new play examining race, identity and what family means today. Check out the tour schedule and join us at a theatre near you! Book now: http://bit.ly/SparkPlugTour.
Not only that… We'll be announcing new plays in the new year and launching our new season as well as our new cohort of PlayBoxers. Watch this space!
Thanks for all your support in 2018. Look forward to seeing you in 2019! Until then, have yourselves a very Merry Christmas and a Happy New Year!
With festive love,
Tricksters Adam, Hannah and Max x