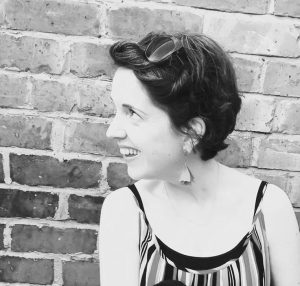 Ahead of its world premiere performance at The Welcome Inn, Salford on 11 February 2020, we sat down with playwright Alison Carr to talk about her new play, The Last Quiz Night on Earth.
What inspired you to write The Last Quiz Night On Earth?
I started two other ideas before this one but they wouldn't take hold. The idea of a quiz night kept popping into my head but I'd dismiss it because I was worried it'd been done too often before. So I kept plugging away and overcomplicating things, until eventually I thought okay, lean into it – a quiz night AND what? A quiz night AND the world is about to end. It all opened up from there and a quiz night became the only way to tell this story. It brings so much to explore like togetherness and community, camaraderie, competitiveness. Throw into the mix an asteroid heading straight for us, and the stakes get higher. It's the final chance to say the unsaid, heal rifts, get the last word, make peace with regrets or try to do something about them.
How does the play fit in with your previous work?
There are elements there like a fractious sibling relationship, and having something quite extreme or unexpected going on. But overall it's quite a departure, especially the characters' interaction with the audience. My jumping off point was to write something fun. A play about an imminent apocalypse might not sound like larks and giggles, but around the time I got the call I'd been researching a lot of serious, dark material for other plays I was writing. It takes its toll. So when Hannah (Tyrrell-Pinder, Director) got in touch my first thoughts were "yes please" and "for my own well-being, it's got to be fun". Plus I always want to be challenging myself, not trotting out the same-old, same-old. And just like 'dark' doesn't mean humourless or hard-going, 'fun' certainly doesn't equal something fluffy or meaningless. It is the end of the world, after all.
How did you get into writing?
I wrote my first play at school – a version of Cluedo (don't sue me Hasbro). I directed it too, and played Mrs Peacock. I clearly had delusions of grandeur. I'd forgotten about that until I went to answer this question, and I was going to say I had my first stab at writing a play for my University's theatre society. I directed that one too, but wasn't in it. So I was gradually lessening my megalomaniac tendencies.
After I graduated I kept writing around jobs. I wrote a comedy called Patricia Quinn Saved My Life. It was all very daft but I could let loose because I never thought it'd see the light of day. It got picked up by a company for the Edinburgh Fringe and became my first professional production. It went down really well and made me think maybe I had something and I could keep going.
How does it feel to see your work on the stage?
It's amazing and terrifying. I don't write for the love of sitting at my desk for hours, tearing my hair out over structure and dialogue. I write to have it made, for the joy of being in a rehearsal room and being part of the process of it coming to life.
I love the shared experience of theatre. That I get to be in the same space as the audience and that we are all breathing the same air as the characters on stage as the events unfold in front of us. It's incredible and such a privilege. I often end up watching the audience watching the play.
That said, it's also sick-to-my-stomach nerve wracking. What if the audience don't like it, it isn't clear, they don't laugh, they're bored, they leave disappointed? All of that keeps me awake at night.
Which playwrights inspired you?
Victoria Wood was, is, and will always be my biggest inspiration. Her voice is so distinctive, and so Northern. She's why I tried writing anything in the first place. She brought joy to so many and achieved so much, she was a grafter.
I'll always try and see any Edward Albee or Tennessee Williams plays I can – they're so big and fearless. Martin McDonagh's The Beauty Queen of Leenane is one of my favourite plays. Lee Hall, Bryony Lavery, Zinnie Harris. I recently saw and read some Annie Baker plays and I'm in awe of her. Not stage, but I just finished my third re-watch of Sally Wainwright's Happy Valley.
Having said all that, I'm not so much a fan of particular playwrights as I am plays and theatre in general – I try and see as much theatre as I can in the North East and beyond.
What was the best bit of advice you were given when you started out?
I can't remember the exact quote, but the gist was 'you need to take yourself seriously as a writer'. I think it was a confidence thing. I was reluctant to jump in with both feet 'cos what if people didn't like what I was writing or it turned out I actually wasn't very good. If I kept it all at arm's length and didn't invest too much, then it couldn't hurt me. But ultimately you have to give it your all – at least I do. And it does hurt me, and often, but I can't imagine doing anything else. So I try to take my work seriously but not myself.
What is next for you?
I've written a play for the National Theatre's Connections Festival 2020. Over 40 groups from across the country will be performing it this year, which is kind of incredible and very exciting. I've also got a couple of commissions on the go in various stages of re-drafting. Other than that, I'm hoping to start something brand new soon. Not for anything particular – not yet – but I can feel something new bubbling away. Of course, while it's all theoretical and in my head it's my greatest work yet, but when I come to try to wrangle it on to the page it'll all fall away and make me grumpy. If my Twitter presence suddenly skyrockets, you'll know I've made a start.
Finally, why should people come to see The Last Quiz Night On Earth?
Well, there's a quiz – a real one. Real questions, real teams, real swappping-answersheets-to-mark. You don't have to be good at quizzes (I'm not) or, if you are, great – come and show off. And when you're not trying to remember which British city hosted the 1970 Commonwealth Games, there's a story unfolding around you about family and regrets and last chances. About making your mark, about grabbing the bull by the horns and not waiting until it's too late to say 'I love you' or 'I'm sorry' or 'I've never liked that colour on you'.
I wouldn't want anyone other than Box of Tricks making The Last Quiz Night On Earth. Their work is never pretentious or intimidating, it's welcoming and warm and a good night out. What better way to meet our fiery demise?!
~ Alison Carr
The Last Quiz Night on Earth plays at The Welcome Inn, Salford from 11 – 15 February before touring to unusual places until 11 April.
Full tour details here: https://bit.ly/LastQuizNight