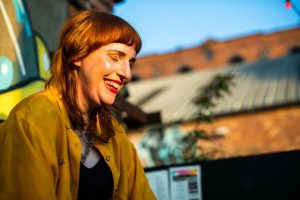 We're delighted to introduce you to our new Marketing Associate, Marcy Rick! Marcy has been working with us for a few months, so we've asked them some questions to give you the chance to get to know them a little better…
Tell us about you and your journey in theatre to date.
Like most theatre workers, I have two hats – I am an arts marketer, having worked with Liverpool's Everyman & Playhouse, Homotopia and A Lovely Poetry Festival. I'm also a theatre maker. I've written two full-length plays, and have directed and co-produced a couple of small productions, which I'm currently working to develop into larger projects.
What excites you most about working in the creative industries?
There's so much to say for working in the creative industries – I love that they're a space to have conversations around a huge range of topics, but in dynamic and engaging ways. It's always brilliant to work with arts orgs, I think what excites me most about working in this area is the people that you get to meet. There are so many boss ideas floating about, and there's a real emphasis on skill sharing and collaborating across the creative sector, I feel really lucky to be a part of that.
What's your role with Box of Tricks? What does that involve?
I'm coming in as a freelance marketer, with experience in development, so I'm excited to build marketing campaigns that really centre community, and uplift the voices of the people who support Box of Tricks. I'll be producing social media plans (feel free to say hello on Twitter!), email campaigns, and creating spaces where we can extend the dialogue around the works being created beyond the stage. I really enjoyed working on Too Much World at Once and can't wait to get stuck into the next Box of Tricks' project!
What advice would you give to others starting out in your field?
To marketers – marketing for arts organisations is quite different to marketing in general – we're not trying to make massive profits, we're working to ensure that as many people as possible can experience the work of the artists that we're collaborating with. The best projects that I've worked on have all had an element of community building, and whether a project helps you to sell one ticket or one hundred, my goal is always for people to come away feeling enthusiastic about the arts, and keen to get involved.
If you could change one thing about our industry, what would it be?
I've been gutted to see lots of organisations turn away from creating new work, with funding bodies pulling funding in this area. Uplifting new work is vital to this industry – it's how we hear from voices that we wouldn't have otherwise, and through that we can connect to and learn with each other. There are only so many times that I'm going to want to see a restaging of An Inspector Calls, but I could see a piece of new writing every night for the rest of my life and come away with something different every time. I'd love to see funding bodies really recognise the importance of new works.
What exciting projects do you have on the horizon?
I'm so excited to be working with Box of Tricks – I'm constantly seeing them do brilliant things for new northern voices, and to be a part of that is amazing. I'm also bringing my first ever play Potato Milk into a full production in early 2023. This scouse comedy about all things Polyamory and milk alternatives was produced as a shared reading in September, and I'm so happy to share it as a full production, with creative captioning and integrated audio description throughout. I'll also be facilitating workshops for neurodivergent writers, and creating a polyamorous speed-dating event, which I'm buzzing about! I'm also working on a play with the fantastic CRIPtic Arts, which is set to be announced this week…