In the last of our blogs by our PlayBox writers on attachment, we talked to Adam Fenton about the development of his new play, You're [not] Special as he prepares for a rehearsed reading at HOME in early 2022 as part of Push Lab.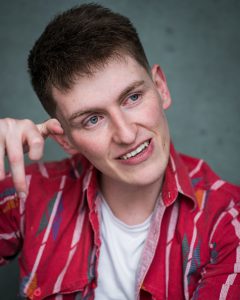 I knew when I entered into the process of writing my play for the wonderful Box of Tricks, I wanted to write something a bit out of the box (do you see what I did there? Did you see that?) something that maybe wouldn't, on the face of it, fit in the confines of what a play is supposed to talk about or be about. Hannah and Adam really encouraged me to write about whatever I wanted and gave me the permission to bring my own brand of weirdness wholesale. I had a think, looked around, and there was one thing that stood out to me in the current spiky landscape.
There is always something about how disabled people are presented around the time of the Paralympics that doesn't sit quite right with me. The portrayal of disabled athletes as 'super-human' can seem like a positive title to a community that is often infantilised and underestimated, but there is great danger in this way of thinking. When people's worth is based solely on their supposed use in society and maintaining an unrealistic standard of excellence that is equally dehumanising. And what better metaphor for that than the plight of a super-hero whose value to themself and the world has been so warped that they don't know if their responsibilities lay with themself and their relationships or the world they are destined to protect. I knew I wanted to write about this because I'm not sure what the right answer is, and plays are meant to ask these types of questions and provoke conversations I want to be part of.
But the problem with writing about something that sits itself in the middle of a grey area, between a rock and hard place is that it makes the excavation of that story feel like extreme brain spelunking. In short, I got in my head about it. Too worried about drowning in a potentially unhelpful narrative/story that I couldn't dip my toes in the ocean of creation. Thankfully, I had the life ring that is the Box of Tricks team to keep me afloat, help me untie my mental knots. And through a process of treatments, creative conversations, pages, pep talks, hot desking, more pep talks, and plenty of cups of tea, the first draft of You're [not] Special was born.
When the day of the workshop arrived, I was quite nervous in anticipation of what the actors would make of my scribblings full of scattered poems, misleading imaginings, and voiceless admissions. This piece was something I consciously permitted to be drawn from a neurodivergent perspective. Meaning that to communicate the heart of the story the methods of creation had to embody that too. Most of this stuff was written in my flat whilst I paced up and down the same circuitous route of the living room, once around the coffee table, over the settee, hop up on the kitchen counter whilst holding on to my thinking spoon (a varnished-wood spoon a bit bigger than a table spoon a bit smaller than cooking spoon for tapping to my forehead to generate ideas). And that's all great, obviously, and it led to some wonderful moments of inspiration. However, I still felt that there was a chance that the story and its themes were only living in my head and metric I was using needed a bit more converting. It didn't have to make perfect sense but I just hoped that there was the spark of something that could be fanned into a flame of brilliance or at least something that could be put into a space for people to be pointed towards and laugh, cry, sneeze, and talk about afterwards in the bar with a well stirred martini. Nevertheless, after some reassuring and galvanising words from Hannah, and lots of biscuits and brews, we began the table read. And I am pleased to report that what I was seeing in front of my eyes was a play, with characters saying funny/upsetting things to each other! That's what I was aiming for, and we got there. And what followed was impassioned discussions with a group of wonderful creatives about the potential of this idea and how far we can push the phantasmal qualities of a story that consciously sits itself in a crushingly mundane world.
I learnt a lot from the interpretations of the artists in the space and believe that we managed to garner a fully encompassed view of the work through perspectives and experience. The beginnings of a claimed space, between typical and divergent where we can share difference and embrace individual needs with impunity. Something I want to really capture with this play and I can't wait for the HOME takeover event where I can invite others into that space. See you there!
~ Adam Fenton
If you'd like to see a rehearsed reading of Adam's new play, along with the other plays from our PlayBox writers, join us at HOME for a two-day PlayBox Takeover on 29 & 30 Jan. Click here for more information.