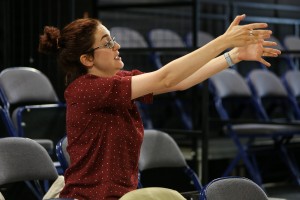 1. Tell us a little bit about your character/role
I'm the director of Narvik and have been involved with the project since its inception back in late 2012.
2. What attracted you to this play?
I was attracted to the idea of collaborating with Lizzie to create a piece of theatre intertwining music and text, so the creative relationship came before the play. As we've worked on the development of the piece the themes of bravery, masculinity and moral certainty have really struck a chord with me: how none of us ever really know what we're truly capable of under pressure.
3. If there was one memory you would like to hold onto, what would it be and why?
Well being a relatively new mum it has to be the cuddle I had with my daughter in bed on our first Christmas morning as a family. Sorry, ridiculously sentimental!
4. If you were a sailor which port would you most like to visit?
To be honest I'd love to visit Oslo as I've always wanted to go to Norway –clearly an international tour of Narvik is required!
5. What are you looking forward to most about this production?
Getting started with rehearsals, the piece has been quite a long time in development, so I'm really excited about bringing it to life – that and being sung to everyday.
6. Which song would you sing to get you through the rough seas?
Maybe American Pie, hopefully it'd be long enough to get through the worst of the storm, and I'm quietly proud of knowing all the words…
NARVIK runs at Liverpool Playhouse Studio 8th September- 19th September. Book tickets here