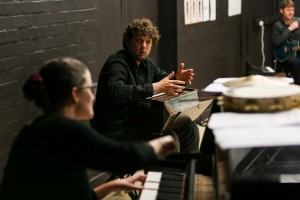 1. Tell us a little bit about your character/role 
I'm the playwright and also a musician. I've written the songs and will be performing them (mostly singing) alongside very talented composer/ musicians Vidar Norheim and Martin Heslop! Martin and Vidar are working with me on arrangements/ instrumentation and are composing the live score.
It's exciting and slightly strange that I'm going to be on stage in the show. I keep forgetting I won't be able to watch it from the audience!
2. What attracted you to this play?
I was really inspired by my grandfather's stories of his time in the navy in WWII- some wonderful, some horrific. Hannah (the director) and I were talking about the fact that nearly all the men who fought in that war are gone now and it's important to record and explore those stories while we still can. From the start we wanted to make a play about war that broke with all the clichés of a war story and took the audience to unexpected places. Hopefully we've achieved that!
3. If there was one memory you would like to hold onto, what would it be and why?
From adulthood- my wedding day (a cliché I know). From childhood, flying down the stairs in a washing basket with my brother Brendan (less of a cliché). I'd like to say we were pretending it was a boat, but I think we were just getting up to mischief.
4. If you were a sailor which port would you most like to visit?
I have to say Liverpool obviously- it's home and I love it. But I would really like to go to Narvik. I've done so much research in to the place now and I've spent a lot of time in Norway, but I'd love to get that far north one day… or even further up to the Arctic.
5. What are you looking forward to most about this production?
I think it's an incredible creative team. I feel really privileged to be working with so many talented people and I can't wait to get in a rehearsal room- start to share ideas and make things happen. It's the best part of being a playwright.
6. Which song would you sing to get you through the rough seas?
Leonard Cohen's Suzanne. Those sombre strange lyrics full of riddles… perfect for a night in a rainy tent or for a rough night on the tide.
NARVIK runs at Liverpool Playhouse Studio 8th September- 19th September. Book tickets here