Box of Tricks announces a season of urgent new plays exploring relationships and our place in the world.
"Every story told. Every voice heard."
Box of Tricks makes plays. We champion playwrights and empower them to tell the stories they want to tell. Together, we go on a journey to uncover new plays that reflect the world in which we live today. We create heartfelt theatre that resonates, inspires and entertains. Check out our relaunched mission statement here.
Our 2019-20 Season



🚗 SparkPlug | A new play by David Judge
"David Judge fuses poetry and exquisite theatricality into a lovingly delivered personal monologue"
★★★★ The Guardian
A punchy and poetic exploration of family, race, identity and love, David Judge's acclaimed new play SparkPlug toured to venues nationwide from February-April. Following its success, we're planning to give the play a future life – watch this space!
🌖 Under Three Moons | A new play by Daniel Kanaber
A new play about friendship and growing up, Under Three Moons explores how men relate to each other today. Who we are and how we live. And the spaces between.
Touring 24 September – 2 November 2019. Tickets now on sale for the Lowry, Salford (24 – 28 September) and the Unity Theatre, Liverpool (9 -12 October). Further dates to be announced.
🎸How Soon is Now? | A new indie musical by Siân Owen
Set to a live soundtrack of indie classics, How Soon is Now? is a new musical about mates, music and magic – finding your place and finding yourself.  There's a club. What you like to go?
PlayBox 2019



PlayBox is a year-long writer-on-attachment programme offering bespoke residencies to three early-career North West playwrights to write a new play with support from Box of Tricks.
This year, we welcome three brilliant local playwrights to join our ranks for the twelve-month programme: Billie Collins, Keisha Thompson and Nana-Kofi Kufuor. Find out more: PlayBox 2019: Meet the PlayBoxers.
#PlayBox2019
Associate Company at SJT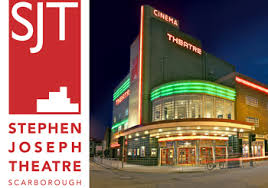 Finally, we're delighted to announce that we're becoming an Associate Company at Stephen Joseph Theatre in Scarborough.
"An historic theatre with a long-standing commitment to new writing in the North, Stephen Joseph Theatre is a powerhouse of new plays. This partnership is a game changer and offers us a level of support to take the next step up as a company."
Adam Quayle and Hannah Tyrrell-Pinder, Joint Artistic Directors, Box of Tricks
"The Stephen Joseph Theatre is absolutely delighted to be supporting Box of Tricks – they're one of the best new writing companies around.  We look forward to working with them as our new Associate Company and can't wait to bring their exciting upcoming projects to our audiences."
Paul Robinson, Artistic Director, Stephen Joseph Theatre