As we launch our  2019-20 Season, we're delighted to announce the PlayBox playwrights who join us this year…
PlayBox is a year-long writer-on-attachment programme offering bespoke residencies to three early-career North West playwrights to write a new play with support from Box of Tricks. Over the course of a year-long attachment, each playwright receives a seed commission to write a new play with dramaturgical support from the Box of Tricks team and workshop development with actors, culminating in a public rehearsed reading.
Introducing our PlayBoxers 2019…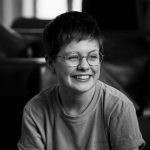 Billie Collins
Billie is a playwright and screenwriter from Merseyside. She spent three years on the Royal Exchange Theatre's Young Writers' Programme, as well as being a member of the Arts Council's 'The Writing Squad', and the BFI Screenwriting Academy. Her first play, 'Spiders', was longlisted for the Bruntwood Prize in 2015, staged to rave reviews in Cambridge (2017), before a run at the Tristan Bates Theatre in London (2018). She has written several other plays and short films, including 'SKIN', which was selected for online showcase by Channel 4's Random Acts, and 'BIG NIGHT' which was showcased at the BFI Future Film Festival (2018). Billie is currently in her final year studying English at the University of Cambridge and is a member of the renowned Cambridge Footlights.
"I am absolutely buzzing to work with Box of Tricks. The enthusiasm, care and warmth with which they support new (Northern!) voices is ace, and I feel incredibly lucky to have this opportunity to develop my own work and to pick the brains of other fantastic writers!"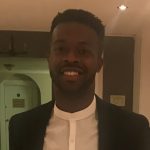 Nana-Kofi Kufuor
Kofi is a writer from Stockport. He originally did a BA Honours in Film and Television production at the University of Cumbria before an MA in screenwriting in Film, Radio and Television at Salford University. His style of writing comes from his experiences growing up in Stockport with Ghanaian parents. He originally wrote film and TV predominantly but joined a workshop group at the Royal Exchange Theatre which introduced him to playwriting. Since then, he has been honing his craft and writing stage plays. He writes plays about working class people, the people who mainstream media forget about or villainize.
"I'm really excited to start this journey on PlayBox and see where it goes. I've never had a commission working with writers and producers to further my craft and playwriting is something I am really excited about."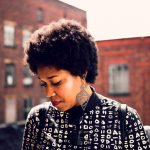 Keisha Thompson
Keisha Thompson is a Manchester based writer, performance artist and producer. She is currently touring award-winning solo show, Man on the Moon and debut book, Lunar, featuring 40 new poems in addition to the script for Man on the Moon. She is also the Young People's Producer at Contact, a trustee for radical arts funding body, Future Ventures' Fund, is a member of Greater Manchester Cultural and Heritage Group and is on the Leaders of Tomorrow scheme led by ITC and RTYDS. She has supported artists such as Kate Tempest, Hollie McNish, The Last Poets, Saul Williams, Amiri Baraka and has performed in Brave New Voices festivals 2008 & 2009.
"I am super grateful to have been chosen to develop a new piece of work that will take my out of my comfort zone. I can't wait to bounce my ideas around, read until my eyes are sore and present something fresh".
#PlayBox2019
Supported by:


Garrick Charitable Trust, Thistle Trust & Fidelio Charitable Trust