Next up on the SparkBlog we have Production Manager Liam Whittaker…
1. What most excites you about SparkPlug?
I'm looking forward to all of it, especially the trip to Butlins
2. Describe the play in 3 words?
Childhood, Memories, Dad
3. What was your family's first car?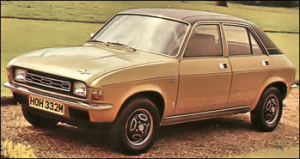 Austin Alegro… we all had to lean forward when going up hill.
4. What's your favourite childhood artist or song?
Michael Jacksons Bad
5. What's your talent show act?
It would have been very similar to David's back in the day, but theses days I just belt out Avril Lavignes, Sk8ter Boi, badly.
6. Where are you most looking forward to visiting on the tour and why?
Touring to Cheltenham Everyman, it's my home town theatre and will be my first time working there!
SparkPlug opens at HOME Manchester from 13-23 February before touring nationally until 13 April 2019. Book now: http://bit.ly/SparkPlugTour. 
#SparkPlugTour