Next up on the SparkBlog we have Technical Stage Manager, Adam Steed…
1. What most excites you about SparkPlug?
The set and how it reflects the era of the piece and the narrative of Dave's life.
2. Describe the play in 3 words?
Nostalgic, authentic, Mancunian
3. What was your family's first car?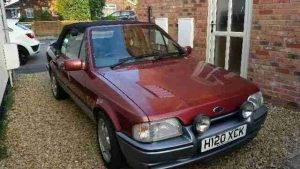 My mum owned a soft top Ford Escort XR3i. She drove it with the roof down at any opportunity! She always loved convertibles and still owns one today!
4. What's your favourite childhood artist or song?
My mum would occasionally buy me vinyl from Sifters Records in Burnage. The first album she bought me was Thriller and it has remained one of my favourite albums.
5. What's your talent show act?
Singing karaoke to Queen's Bohemian Rhapsody! I used to get that one out every family holiday!
6. Where are you most looking forward to visiting on the tour and why?
I'm looking forward to York because I remember it being a beautiful city and it has been so long since I've been.
SparkPlug opens at HOME Manchester from 13-23 February before touring nationally until 13 April 2019. Book now: http://bit.ly/SparkPlugTour. 
#SparkPlugTour