SparkPlug Rehearsal Diary: Week 2
by Assistant Director, Hannah Calascione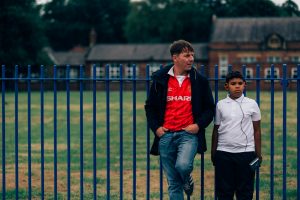 This week has seen us through a number of different discoveries and challenges.
It started for me with a workshop, when our designer and director team ran a session as part of PUSH festival at HOME on the weekend. Being part of that was a great insight into their longstanding creative relationship and the journey they went on to create the design for SparkPlug. Without giving too much away, the journey begins with the problem of needing to create: at least 3 cars on stage, a dynamic playground for our performer, a set that fit into the smaller studio spaces AND fit in a touring van….
On the Tuesday we got to see the beautiful final result. Liam, our production manager and Adam, our stage manager, went to collect the set from the workshop and practised assembling and dissembling it safely and quickly. It was brought into our rehearsal space and the team began renegotiating the stage language we'd been creating with a huge car in it! These came with natural teething problems which were soon fixed (which way up does the front grill go on? how do we get the windscreen wipers to stay in the frame..?) and other actor and director questions about how to use it in a dynamic way that strengthens the work we have done so far. There have been some beautiful moments of excitement where we have deepened what David can do with the new architecture to play with.
At the same time, David and Hannah have been getting to the root of his role as a performer. They have created a system to understand exactly where the dialogue is coming from, which is a series of concentric circles that explain where different sections of the piece sit in the world of the play. They go all the way from 'David the artist/writer/performer' to 'Dave the character in a particular moment during the timeline of the story'. It's intricate, and that attention to detail is keeping the performance style really specific moment by moment. David is even discovering new things about his own text, new questions it asks of the world and new motivations for Dave the character to need to speak his mind. The host of characters are beginning to find distinct voices and gestures that define them, and David is beginning to fill them out which is amazing to see.
It feels as though we are at a really strong point ahead of week 3, having worked through the entire play and gone back to the beginning with the set to play with. The next stages bring us set dressing details, costume and sound, and refining some earlier choices with new ones. Our rehearsal room playlist is ever growing and I can't wait to hear it within the context of the play!
SparkPlug opens at HOME Manchester from 13-23 February before touring nationally until 13 April 2019. Book now: http://bit.ly/SparkPlugTour. 
#SparkPlugTour