SparkPlug Rehearsal Diary: Week 3
by Assistant Director, Hannah Calascione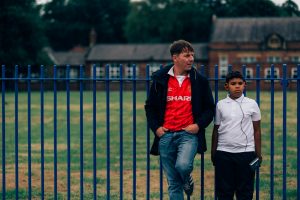 This week had different chapters. The first was an emotional one, in which David unpicked negative experiences of prejudiced behaviour on a few mornings before rehearsal, and channelled his frustration into the work. We discussed the societal expectations of masculine men to be able to 'take things on the chin' rather than learn to express their anger and hurt in a measured way. The consequences are great, and can lead to tragedy. Indeed, our principal character Dave went to Strangeways after having a fight with a bus driver when he was young. Male mental health and toxic masculinity are hugely important to the subject matter of this play and are continual themes of discussion in rehearsal. During this process we have discovered more and more about Dave's motivation to tell the story, which is wrapped up in a kind of masculinity that does him a disservice; unequipped with the language to speak about emotionally complicated things, the story sees him working out some of the issues he kept buried. While this play is the voice of Dave the character, it is also of David the artist, who through his terrible experiences with members of the public this week, found some of his own anger in his father's story.
The second was a practical one; getting to grips with all the stage "business", of which there is a lot! This saw us working out in detail the more physically demanding parts of the show (and ensuring it is safe and doable), and seeing the piece develop into a real test of stamina. We also not only mapped the journey of different stage elements (the car, the keys, costume, etc) in detail, but did a number of things to make sure the physical and emotional shifts had been processed in David's mind. He called this 'joining the dots', contextualising every move for each character he plays and for every move they make. It has made the show so much tighter, more truthful and given it a greater sense of flow alongside the poetry of the text.
I like to make the distinction between 'visible work' and 'invisible work', the latter being of this kind. No audience member will read the things we worked through this week necessarily — they will only see the tip of the ice berg poking out of the invisible sea, but it was all essential to the tightening of the show, giving David a solid place to play from. It has also helped the pacing of his energy across the running time, so that he doesn't spend too much too soon and can give what he needs to at the right points. He has only himself on stage (and a car!) to get energy from, but luckily he has no problem holding the space! All this work really reminded me that you should never cut corners when it comes to making choices on stage, doing the invisible work will help you later.
I've noticed that Hannah and David are being able to make cuts and edits to the text with so much more ease because of this solid basis. The show is taking a clear shape, so those joint decisions are made with quicker confidence as the days go by. 
We were then flushed with new energy when we finally brought audiences in on Thursday, for our open dress. It being a one man show and a piece of storytelling, I was excited to see David have someone to talk to. It taught us what we needed to tighten and brought the audience into focus as another character in the story. SparkPlug is also, in some sense, a memory play, with a number of layers, and that complexity would be handled completely differently on screen in film or TV than on stage. I found it fascinating that Hannah and David began strengthening the show's theatricality, as the piece became more physical, and they discussed the elements of the piece that were maybe the 'film version' of a scene rather than the theatre one, and made amends.
The creative team also convened this week into the same space, and we invited Chris, on sound, and Richard, on light, into rehearsal. It was great to have some of these technical elements to work with earlier than tech week, so we can plan ahead how we can effectively integrate their work with ours. Both felt inspired after seeing a run of the show and this gave us all a brilliant morale boost ahead of opening next week. Spirits are high! 
SparkPlug opens at HOME Manchester from 13-23 February before touring nationally until 13 April 2019. Book now: http://bit.ly/SparkPlugTour. 
#SparkPlugTour