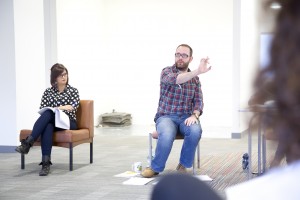 Tell us a little bit about your character/ role?
I'm one of the Artistic Directors of Box of Tricks and I'm directing Plastic Figurines. This piece is the first play to emerge from our New Tricks programme, commissioning and developing new plays for production, and I've worked closely with the playwright Ella since the inception of the idea.
What drew you to this play?
Plastic Figurines is a piece that is at once personal and universal. It's a play about a brother and sister; about family and love and grief. It explores autism, a fascinating condition that throws up challenges for families across the country, and how a brother and sister relate to each other in the wake of their mother's death. It deals with these big themes, asking big questions that face us all, but Ella's writing is subtle and nuanced, funny and acutely observed. She can make you laugh one minute and break your heart the next. She is a huge talent and a unique voice, writing with a rhythm and heightened style that really appeals to me.
What is your favourite chocolate bar?
Cadbury's Caramel is probably my default choice.
What are you looking forward to most/ least about being on tour?
On the occasions where I'll catch the play on tour, I'm looking forward to seeing the production play in new spaces in front of new audiences. As a director, it's wonderful watching an audience connect with a production. I'm not looking forward to having to leave my 14-week-old daughter when I have to be away from home.
Who is your favourite Teenage Mutant Ninja Turtle?
I was a huge Teenage Mutant Ninja Turtle fan growing up. This production has rekindled that old flame! My favourite is probably Michelangelo as he's the most fun one. I love his catchphrase "Cowabunga dude!"
The national tour of Plastic Figurines opens at the Liverpool Playhouse Studio on the 8th of April before heading on to: New Diorama, London; The Old Town Hall, Hemel Hempstead; The Met, Bury; Hull Truck; Square Chapel Centre for the Arts, Halifax; The Atkinson, Southport; Whitby Hall, Ellesmere Port; The Mill at the Pier, Wigan; The Civic, Barnsley; Harrogate Studio Theatre; The Lowry, Salford Quays; Derby Theatre; Theatre Severn, Shrewsbury; Clwyd Theatr Cymru, Mold.