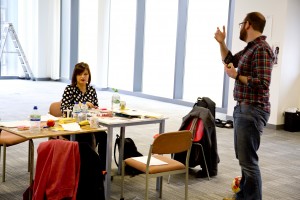 Tell us a little bit about your character/ role?
I am the sound designer. It is my job help accentuate the action and emotion on stage with sound and music, made easier by the great music created by our composer Chris Hope. We will try to help locate different scenes both in their physical location and timeline, all the while trying not let the sound take over or be obtrusive to the actors onstage.
What drew you to this play?
Any chance to work with Adam or Hannah I grab with both hands. They have a great track record of working with wonderful writers and finding plays that offer a lot of creative scope to everyone involved.
What is your favourite chocolate bar?
All time favourite is a south African chocolate called a TEX. But current favourite is the new malteaser chocolate bar.
What are you looking forward to most/ least about being on tour?
Unfortunately I won't be on this tour but I have toured many times before and I can tell you that you make family on tour. I have made friends for life whilst on tour. Being on tour is a unique situation and you are all in it together. You form incredibly close friendships in a short space of time. At the time you all are the only ones who understand what you are going through and that bonds people.
What I will not miss is cold supermarket bought tuna sandwiches that always has too much sweetcorn.
Who is your favourite Teenage Mutant Ninja Turtle?
Michelangelo. We have a lot in common. We both love pizza and saying cool things like 'cowabunga dude' and 'rad'.
The national tour of Plastic Figurines opens at the Liverpool Playhouse Studio on the 8th of April before heading on to: New Diorama, London; The Old Town Hall, Hemel Hempstead; The Met, Bury; Hull Truck; Square Chapel Centre for the Arts, Halifax; The Atkinson, Southport; Whitby Hall, Ellesmere Port; The Mill at the Pier, Wigan; The Civic, Barnsley; Harrogate Studio Theatre; The Lowry, Salford Quays; Derby Theatre; Theatre Severn, Shrewsbury; Clwyd Theatr Cymru, Mold.