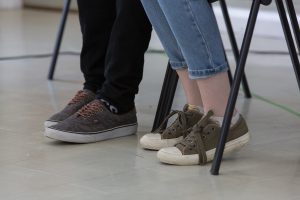 Tell us about your role in Plastic Figurines?
I'm the Associate Producer with Box of Tricks, which means I am involved in producing all of the company's projects. Plastic Figurines was the first project I produced with the company so I'm thrilled to be able to work on it again.
Describe the play in three words?
Heartwarming, funny, honest
What are you most looking forward to about the London run?
I went to Royal Holloway University of London but haven't really done any work there since an internship just after graduating. This will be the first project I've worked on which has had a London run so I'm really looking forward to being back in the capital.
What was your favorite toy as a child?
K'nex! I had the big blue box with hundreds of pieces. I always wanted to make the big ferris wheel from the booklet and convinced my grandma to help me. I soon got bored because it was really complicated and so she spent a whole weekend finishing it off without me. I took all the credit!
Why should people come and see Plastic Figurines?
People should come and see the show because they will completely fall in love with the characters like I have. It's so enthralling to watch them together.
After a hugely successful national tour in 2015, Plastic Figurines by Ella Carmen Greenhill returns to New Diorama Theatre in London from 27 September – 22 October 2016.