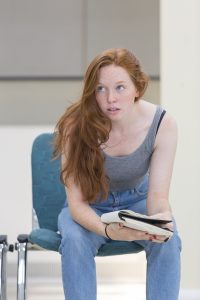 Tell us about your role in Plastic Figurines?
I will be playing the role of Rose in Plastic Figurines. Rose is a young woman who is coming to terms with the loss of her mother and caring for her younger brother Mikey, who suffers from Autism. Rose is fiercely independent due to the circumstances she has been thrown into and her journey throughout the play is one of self-discovery.
Describe the play in three words?
Love, Autism, Hope.
What are you most looking forward to about the London run?
Sharing the beautiful writing with an audience. I am thrilled to be part of a production that brings this delicate yet important subject matter to the theatre.
What was your favorite toy as a child?
I had a Pikachu cuddly toy that I took everywhere with me! When I broke my arm and had it put in plaster Pikachu had one of his ears plastered too, so I didn't feel so alone!
Why should people come and see Plastic Figurines?
I feel like the play may give viewers a gentle nudge to remember what is important in life and how we often fail to connect to what really matters.
After a hugely successful national tour in 2015, Plastic Figurines by Ella Carmen Greenhill returns to New Diorama Theatre in London from 27 September – 22 October 2016.