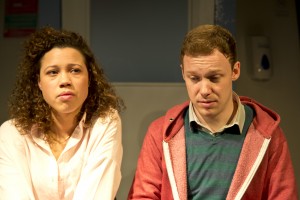 Tell us a little bit about your character/ role?
I am composing music for the play – on a mixture of pianos and strange synthesizers
What drew you to this play?
Initially, Adam approached me to write the music; but, after reading it, I really liked the ordinariness of the characters: the fact that the play was not fanciful but felt real.
What is your favourite chocolate bar?
I love a good 'Boost': if I have one, it always feels like I've drunk 5 cups of coffee and could – if pressed to do so – climb a building or wrestle a bear.
What are you looking forward to most/ least about being on tour?
I strictly won't be on tour – as a composer's job tends to be done before the play sets off; however, I am very much looking forward to heading up to Manchester to some rehearsals to see how/if the music helps within the scenes. I'm also looking forward to adapting and adding extra little bits of music as we get closer to the final production.
Who is your favourite Teenage Mutant Ninja Turtle?
I'll go for Michelangelo; I can only just remember them from my youth. Did they each have separate special powers? In which case, I'll choose the one with the most normal powers (I like ordinariness); maybe one of them was really domestic and able to knock up a flan?! I think that'll be Michelangelo.