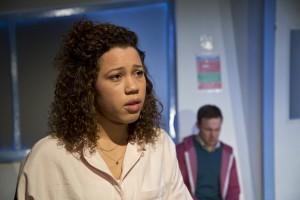 "Ella Carmen Greenhill's much admired Plastic Figurines is at Clwyd Theatr Cymru in Mold."
Lyn Gardner, Top Tickets, The Guardian
"It's also your last chance to catch Box of Tricks' delicate production of Ella Carmen Greenhill's well-observed and tender two-hander about the complicated relationship between a woman and her autistic brother"
Natasha Tripney's Theatre Picks, The Stage​
So, after five weeks of rave reviews, sold out performances, overwhelming audience reactions, we're into the final week of the Plastic Figurines national tour. Only four more chances to catch this critically-acclaimed new play: Tuesday at Theatre Severn and Thursday-Saturday at Clwyd Theatr Cyrmu. So get your skates on if you want to catch us before it's all over!
Lauded by critics…
"A quietly courageous play about autism"
★★★★ The Guardian
"A tender, nuanced piece of new writing"
★★★★ The Stage
"This play will engage, entertain and challenge you – but, most of all, it will move you. Unmissable."
★★★★★ Public Reviews
"Plastic Figurines is unmissable"
★★★★ British Theatre
"Beautiful moments of verbal and visual humour."
★★★★ Liverpool Echo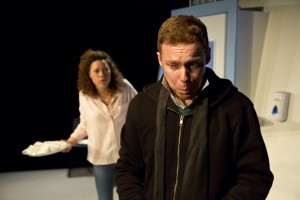 And loved by audiences…
"The most moving piece of theatre I've ever seen"
"Heartbreaking and funny, I defy you to watch it with tearing up"
"Stunning piece of writing"
"Two stunning performances last night in Plastic Figurines, wonderful acting and writing"
Read more of what audiences have been saying about Plastic Figurines: storify.com/bottc/plastic-figurines-national-tour.
Get the full picture and book now at boxoftrickstheatre.co.uk/production/plastic-figurines. Hope to see you on the road at one of the final performances!