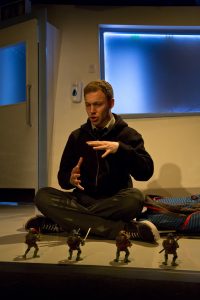 Tell us about your role in Plastic Figurines?
I am the sound designer. I work with the composer to help create and support the mood and atmosphere on stage. Music is one of the most effective ways to give a person an emotional response. It can immediately put the audience in the right mood or frame of mind before a word is performed. We use this alongside soundscapes and effects to make sure the audience are drawn into the performance.
Describe the play in three words?
Heartbreaking, Touching, Funny
 What are you most looking forward to about the London run?
From a technical perspective we are able to do a little more in a longer run in a one venue, compared to the tour where we still try to achieve the highest standard but inevitably some compromises are made in order to make the tour easily repeatable in different venues with limited set up scheduled time.
What was your favourite toy as a child?
It would be a tie between a wooden helicopter my dad made, all of my Lego, and my ninja turtles. But when asked my mum she said it was 'Mr Lotsa Legs' a yellow caterpillar with multi-coloured shoes.
Why should people come and see Plastic Figurines?
It is a very engaging show. It has some sad, funny, touching, beautiful moments very delicately put together. I think any support help when it comes to autism awareness is important. I think it widely known but not properly understood and we can help change that.
After a hugely successful national tour in 2015, Plastic Figurines by Ella Carmen Greenhill returns to New Diorama Theatre in London from 27 September – 22 October 2016.