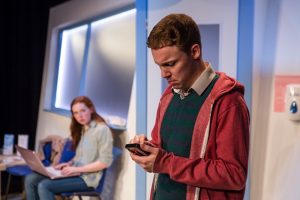 Tell us about your role in Plastic Figurines?
I play Mikey in 'Plastic Figurines'. Mikey is on the autistic spectrum. He struggles to make sense of the world around him and sees things in a completely different way to his sister Rose. It's the most beautiful part I've ever had the privilege to play.
Describe the play in three words?
True. Heartwarming. Heartbreaking.
What are you most looking forward to about the London run?
I'm looking forward to a London audience getting the chance to see this beautiful piece of work. Everyone has worked very hard to tell Ella's amazing story with the dignity it deserves.
What was your favorite toy as a child?
I had a Beetlejuice figure that I wouldn't let go of. That was one of favorite films as a kid. So imaginative.
Why should people come and see Plastic Figurines?
It's an incredible piece of writing that will make you both laugh and cry. You go on a real journey with Rose and Mikey.