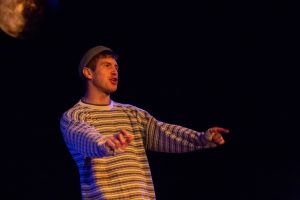 What years would you say were your formative years, and why?
As defining as my three years at Arts Ed were, I learnt a lot that has certainly shaped me as an actor and as a person but I honestly think that my year out (2016), not getting into acting school was the most formative, I learnt so much about myself, the person I was (or wasn't) and the world I existed in but most importantly what i had to change and what more I had to do to be what I wanted to be and get to where I wanted to get.
What was the best part of your teenage years?
My footballing career was certainly up there, playing up and down the country in a team with close mates, winning almost every trophy we fought for.
What's the best memory from your twenties?
There's been many, some crazy, some very sentimental but I think seeing my niece graduate from University this year.
What are you looking forward to most about your thirties and beyond?
Life, like actual life, family, kids, adventures and everything that comes with it.
Describe your best friend in three words?
Small
Cheeky
Charming
Under Three Moons runs until 2 November and tours to Liverpool, Crewe, Hull, Leeds, Ormskirk, York, Newcastle, Mold and Whitehaven. Book now: http://bit.ly/U3MTour.