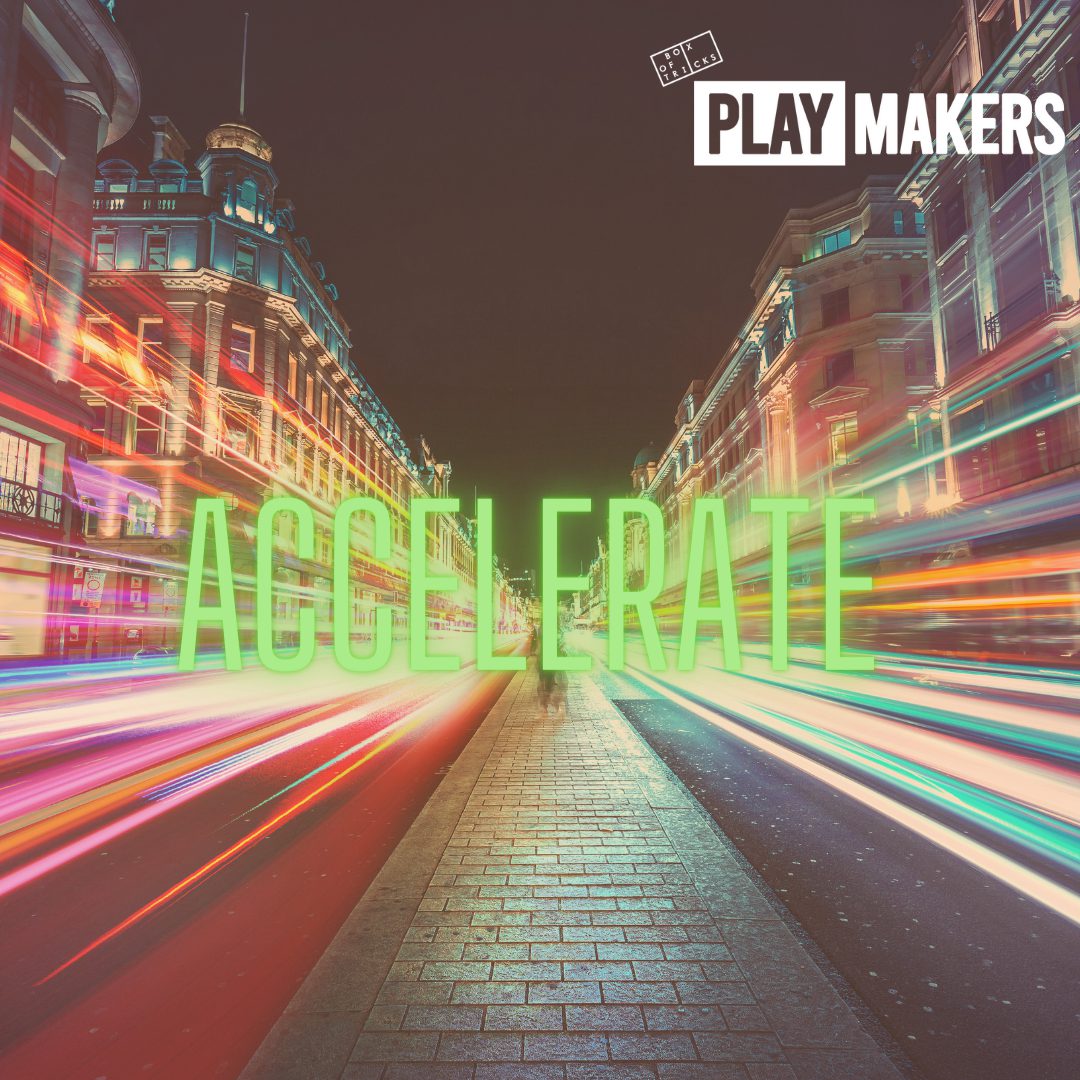 Accelerate is Box of Tricks' new development programme for Northern playwrights aged over 35. Sparked by conversations we've had with writers in our PlayMakers Network, Accelerate celebrates the value of lived experience and recognises that writers can "emerge" at any stage in life. It is designed to help playwrights develop a brand-new play and make a step up in both their craft and professional writing careers.
Following an open call, 12 writers will join the 9-month programme, which will run from January 2024 to September 2024. Each writer will be invited to develop the first draft of a new play with support from Box of Tricks, as well as attending monthly group sessions.
Positive Action
Box of Tricks' work is enriched by a diversity of voices and a variety of stories. As part of our Positive Action programme, we actively welcome applications from communities currently underrepresented on stage:
⇥ D/deaf, disabled and neurodivergent writers
⇥ LGBTQ+ writers
⇥ Writers of colour
⇥ First generation migrant writers
⇥ Writers from a low socioeconomic background
Eligibility 
To be eligible, writers must be:
- At least 35 years old. There is no upper age limit.
- Committed to developing as a playwright.
- Based in the North of England (sessions will be held in person in Manchester.)
- A member of our PlayMakers Network.
Monthly Sessions
Monthly sessions will include:
~ Craft workshops led by Box of Tricks' Joint Artistic Director, Hannah Tyrrell Pinder. The content of which will be set in conversation with the group, tailored to their needs and areas of interest (for example, writing adaptations, solo shows, redrafting.)
~ Q and As with industry guests, designed to provide clear insight and guidance on navigating the current new writing landscape. Example sessions might include pitching for radio drama, finding an agent, what to do when you're not
~ Open sessions - with busy working lives and multiple commitments, we recognise that finding time to write is half the battle. These sessions will be dedicated to writing together, starting with group check ins and goal setting. They will be a chance for the writers to share ideas and feedback in a relaxed setting, supported by the Box of Tricks team.
~ A group theatre trip and pre-show discussion.
Applications
The application window closed on 27 November.
If you have any questions whatsoever, please don't hesitate to get in touch with our Literary Team. Drop us a line at playmakers@boxoftrickstheatre.co.uk.