SparkPlug
A new play by David Judge
31 May – 30 June 2021
"He's got two Dads, my lad. One's black. That makes him black. I suppose."
Following its acclaimed 2019 tour and sell-out run at HOME Manchester, David Judge's "exquisitely theatrical" SPARKPLUG (The Guardian) is back for one night only!
Tune in to Sky Arts (Freeview Channel 11) on Monday 31 May at 10pm to relive this electric piece of theatre from the comfort of your own home. Watch on demand via Sky TV or Now TV until 30 June 2021.


---
Manchester, 1983. Dave loves Rod Stewart, Joanne and his Ford Capri. He's all set for a new start. Only Joanne's about to have someone else's baby. Is Dave ready to become a Dad even though he's not the father?
A punchy and poetic exploration of family, race, identity and love, SparkPlug is the story of a white man who becomes the adoptive father, mother and best friend of a mixed-race child, David.
Inspired by autobiographical events and exploring the playwright's background as an actor and spoken word artist, SparkPlug is a lyrical and energetic monologue that examines what family means in today's society.
Images: © Decoy Media

Tweet
"David Judge fuses poetry and exquisite theatricality into a lovingly delivered personal monologue. A soul-searching inquest into race, class and machismo... A dexterous and moving telling of the author's story. There is swaggering bravado one minute and silent, gentle yearning the next. An elegiac and unassuming poetry is threaded throughout Judge's performance... Fleeting but exquisitely theatrical moments... In Judge's homage, there is at least a reassurance of authorial truth, of his own if not his father's. And it is beautifully told."

★★★★ The Guardian
"David Judge has dug deep in to his own family history for this absorbing one-man show... Mesmerising oral storytelling... Designer Katie Scott's set is a playground for boys of all ages, a garage cluttered with memories with, at its heart, a Meccano-like skeleton of a car which Judge clambers on, around and under like a playground climbing frame."

★★★★ Liverpool Echo
"The script for SparkPlug is outstanding... Director Hannah Tyrrell-Pinder uses Judge's highly physical performance style to create a dynamic and tense production. Central to this approach is Katie Scott's remarkable set... Intensely moving and beautifully performed, SparkPlug is a play that rewards attention."

★★★★ Reviews Hub
Click to reveal more
Cast Members: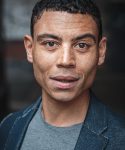 David Judge
Creative Team:
Director: Hannah Tyrrell-Pinder Designer: Katie Scott
Executive Producer: Max Emmerson Sound: Chris James
Lighting: Richard Owen Assistant Director: Hannah Calascione
TSM: Adam Steed Production Manager: Liam M Whittaker
Original Music Composer: Vidar Norheim :
Filmed and edited by : Three Degrees West
Photo Gallery