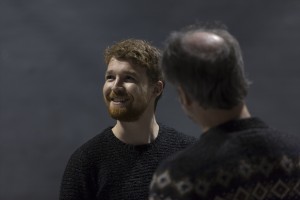 1. Tell us a little bit about your role
On the face of it Lee is a friendly, optimistic, hard working young man. However, when you realise how hard he has had to work to get to where he is in his employment, in spite of his past, he becomes an extraordinary character. Rebecca has penned a really interesting set of characters so I'm sure I'll be discovering new things about Lee throughout rehearsals.
2. What attracted you to this play?
I read the play a few days before my audition was due to take place and after that first reading the play stuck with me thanks to a great plot and well written dialogue. That, in turn, meant I had plenty of ideas about how I wanted to play the character going into the audition, which always helps.
I have been to see some immersive theatre previously and I have really enjoyed the experience and with this show, as there is food involved, the audience get a bit of grub and are hopefully entertained as well.
3. With whom would you most like to share a chippy tea?
At home I would be sharing fish and chips with my girlfriend, probably with my cat trying to get a bit. I'll be back in Rochdale for a while during the run so a chippy tea with my Mum, Dad and brother is inevitable.
4. Who or what was your first love?
Probably my first role in a musical at school when I fell in love with performing.. I loved going to rehearsals, re-working the scenes and putting all that hard work into a performance. It is something I find exhilarating and I'm very lucky to be doing it professionally.
5. Where are you most looking forward to visiting on the tour?
The places around my Mum and Dad's house will be great as I will be able to get some family members to see the show so around Bury and Oldham are going to be great. There are quite a lot of places I have never visited, so it will be nice to see some new parts of the country.
6. What do you put on your chips?
Bit of curry sauce is always a winner for me.
Chip Shop Chips tours from the 17th February to the 23rd of March. Book tickets here.